Friday, October 21, 2011
Alash Ensemble Returns to SU Wednesday, October 26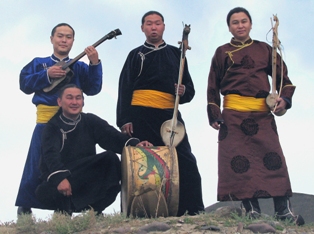 SALISBURY, MD---The gentle breeze of summer, the sound of a bubbling stream and the pulsing rhythm of a trotting horse will soon be heard at Salisbury University—without the help of nature.
A quartet of master throat singers, the Alash Ensemble may produce up to four pitches simultaneously using only the human voice. It returns to Salisbury University with a performance at 7 p.m. Wednesday, October 26, in Holloway Hall Auditorium. The concert is part of SU's "Fusion" cultural events series.
The ensemble is named for the Alash River, which runs through the musicians' native region of Tuva, a tiny republic in the heart of Central Asia.
The ancient art of throat singing developed among the nomadic herdsman of Central Asia, and has expanded its musical vocabulary with ideas from the West.
The Alash Ensemble and its individual members have won top honors in throat singing competitions. All members play in the Tuvan National Orchestra, which has won both first prize and grand prize in the All-Russia National Orchestra and Ensemble Competition.
Sponsored by the Office of Cultural Affairs, World Artists Experiences, Inc., and the Embassy of Tuva, admission to the performance is free, and the public is invited. For more information call 410-543-6271 or visit the SU Web site at www.salisbury.edu.