Thursday, March 4, 2010
African Guitar Sensation Habib Koite Performs at SU March 9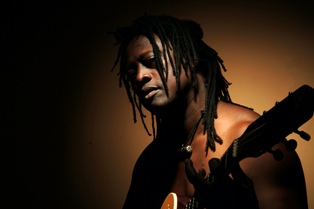 SALISBURY, MD---North America had Elvis. Africa has Habib Koité.
That continent's premier musician and his band, Bamada, visit Salisbury University Tuesday, March 9, presenting a free concert at 7 p.m. in Holloway Hall Auditorium.
Koité comes from a noble line of Khassonké griots, traditional troubadors who provide wit, wisdom and musical entertainment at social gatherings and special events. He grew up surrounded by 17 brothers and sisters, and developed his unique guitar style accompanying his griot mother.
He inherited his passion for music from his paternal grandfather who played the kamele n'goni, a traditional four-stringed instrument associated with hunters from the Wassolou region of Mali, Africa.
"Nobody really taught me to sing or to play the guitar," he said. "I watched my parents, and it washed off on me."
Koité takes some unique approaches to playing the guitar. He tunes his instrument to the pentatonic scale and plays on open strings as one would on a kamale n'goni. At other times Habib plays music that sounds closer to the blues or flamenco.
His first album, Muso Ko, released in the mid-1990s, quickly reached No. 2 on the European world music charts. His next, Ma Ya in 1998, shot all the way to No. 1 and stayed there for three months. Two additional albums released since then, Baro and Fôla!, have received critical acclaim not only from music lovers, but musicians themselves, including Jackson Browne and Bonnie Raitt, the latter with whom Koité has recorded.
He has performed at some of the world's premier venues, including the Montreaux Jazz Festival. He has been featured in hundreds of newspapers and magazines including People, Rolling Stone and Vanity Fair, and has performed on radio and TV programs including National Public Radio's All Things Considered, House of Blues Radio Hour, CNN WorldBeat and Late Night with David Letterman.
Those backing Koité in Bamada include percussionists Souleymane Ann, Mahamadou Kone and Fassery Diabate; bassist Wahab Abdoul; and guitarist/harmonica player Boubacar Sidibe. On a world tour, they travel to Virginia for a performance at The Barns at Wolf Trap following their performance at SU.
Sponsored by the Office of Cultural Affairs, Charles R. and Martha N. Fulton School of Liberal Arts, Multicultural Student Services, the Office of Student Organizations and Activity Planning and the Mid-Atlantic Arts Foundation, their performance is part of a two-day world music festival at SU, also featuring the Alash Ensemble throat singers of Tuva, Asia, on Wednesday, March 10.
"We are fortunate to have two amazing evenings of world music at SU," said June-Krell Salgado, cultural affairs director.
Admission to both is free and the public is invited. For more information call 410-543-6271 or visit the SU Web site at www.salisbury.edu.