Thursday, November 1, 2012
23rd SU Dance Company Fall Showcase Scheduled November7-10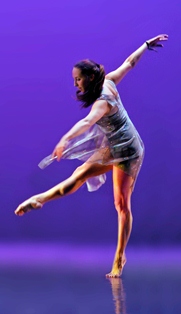 SALISBURY, MD---The Salisbury University Dance Company, directed by Mary Norton, presents its 23rd annual Fall Showcase 8 p.m. Wednesday-Saturday, November 7-10, in Holloway Hall Auditorium.

This year's program features works by eight company members. The show concludes with the finale, "Alegria Da Vida," choreographed to the music of Sergio Mendes by guest artist Staci Alexander-Snyder.

Alexander-Snyder, a Salisbury native, studied dance locally and at 17 joined the cast of Up With People. She toured four times nationally and internationally with Young Americans. In 2006, she joined the Human Project Urban Dance Theater in Tucson, AZ. She has presented several works on the company, including the Michael Jackson-based "Tribute" and "Celebration."

Two company members present choreography for the third consecutive year. The Cinematic Orchestra provides the musical inspiration for senior Stephanie Johnson's "Home." This contemporary work expresses a dancer's inner sense of being at home on the performing stage. Senior Marisa Corbett's modern piece "Wear Sunscreen" uses music by Vonnegut to explore the more important aspects of life.

Modern dance technique also is showcased in "Peponi," choreographed by Erin Nooney. Her choreography uses music by The Piano Guys to express a theme of escapism.

Contemporary dance style is utilized in "Dancing in the Dark" by senior Gina Ingrao and "Two Worlds" by Chelsea Chmel. Ingrao's work, to music performed by Mat Kearney, has as its focus the end of a dancer's performing career. A theme of unity is expressed in Chmel's African contemporary work, set to music by Phil Collins.

Jazz dance, a theme of feminine power and music by artists Nina Martinez, the Yeahs Yeahs and La Roux form the basis of "Fierce" by senior Killian Walker. "You Tore My Heart" is Morgan Pearson's contribution to this fall's showcase. Pearson also uses jazz technique and the music of Oona to express the feelings of broken heartedness through her choreography.

Senior Kerry Brennan fuses hip-hop style with funk rock music in "Goin' Crazy." Brennan uses music by Beck as her inspiration for her work.

Proceeds from the showcase benefit WBOC's Bless Our Children campaign. Admission is $15, $12 for seniors, teens and SU alumni. Children under 12 and SU ID holders are admitted free.

Reservations are not required. Tickets are available at the door beginning at 7:30 p.m. For more information or to purchase tickets in advance call 410-543-6228 or visit the SU Theatre and Dance Web site at www.salisbury.edu/theatreanddance.