Friday, June 1, 2018
Perdue School Faculty Publish in 'Journal of Management and Spirituality'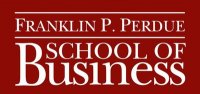 SALISBURY, MD---Many case studies performed by management and marketing faculty in Salisbury University's Franklin P. Perdue School of Business have shown that employee-owned enterprises often outperform traditional businesses.
In an invited paper recently accepted for publication by the Journal of Management and Spirituality, professors Richard Hoffman and Frank Shipper probed the shared core values that give many of those employee-owned companies their success.
Businesses considered in the study include the Maryland Brush Co., Mondragon of Spain, Atlas Container, Herman Miller, SRC Holdings, W.L. Gore & Associates, the John Lewis Partnership of the United Kingdom and Equal Exchange. Values explored include honesty and fairness, employee empowerment and engagements, democratic egalitarianism, accountability and merit, transparency, community and sustainability.
The work of SU's management and marketing faculty in studying employee-owned companies is widely recognized. Individuals from over 150 countries have used their research. For the past three years, it has been presented at the Business Fights Poverty conference at the University of Oxford, England.
It is presented regularly also at the Beyster Institute at the University of California San Diego and at Rutgers University. In 2017, Shipper was a keynote speaker at the International Rendanheyi Model Forum in Qingdao, China.
Their research also has been referenced by national media, including MSNBC and The Wall Street Journal, and featured on Rutgers University's School of Management and Labor Relations's Curriculum Library for Employee Ownership, the largest global online library on employee ownership.
Multiple grants and awards to continue their work have been received, including Rutgers University's prestigious Kevin E. Ruble Fellowship.
For more information call 410-543-6030 or visit the SU website.