Thursday, June 11, 2009
2009 Maryland Girls State Comes to SU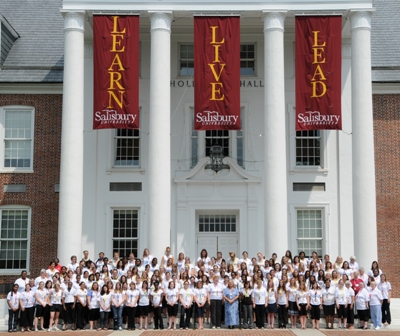 SALISBURY, MD---What do former Texas governor Ann Richards, news commentator Jane Pauley and past chairwoman for the National Endowment for the Humanities Lynne Cheney have in common? They are all alumni of Girls State, a national government education program sponsored by the American Legion Auxiliary.
More than 130 high school seniors recently followed in their footsteps during the 2009 Maryland Girls State program at Salisbury University. This is the first time that Girls State has been held at Salisbury and nearly a decade since it's been held on the Eastern Shore.
"Girls State has an established history of molding young leaders," said SU President Janet Dudley-Eshbach. "Its focus on public service complements that of Salisbury University and our Institute for Public Affairs and Civic Engagement. I can't think of a more appropriate location for Maryland Girls State and I'm proud to welcome these young women to our campus."
During the weeklong, non-partisan event, participants were assigned to represent fictitious cities and counties, learning how local and state governments work from elections to the passage of legislation.
During the event, participants met with local and state legislators. Guest speakers from SU include Maj. Charles Keen, ROTC Program coordinator, and Dr. Melanie Perreault, History Department chair. Others included Salisbury City Council members Deborah Campbell, Terry Cohen and Eugenie Shields; Wicomico County Councilwoman Sheree Sample Hughes and Maryland Delegate Jeannie Haddaway-Riccio.
"Girls State brings the best and brightest students together in a mock legislative session," said Perreault. "The students debated bills, negotiated the legislative process, listened to lobbyists and essentially did everything a real state legislator would do, using actual bills before the Maryland Legislature today. Hopefully some of these top students will choose government as a career."
During this year's program, participants also conducted an in-house collection for the Maryland Food Bank, bringing in nearly 200 pounds of non-perishable goods.
Two participants from Maryland Girls State were selected to attend Girls Nation, a national government training program. Girls Nation "senators" meet for a week in Washington, D.C., where they will hold mock elections for political office, campaign for the passage of legislation and meet with national government officials, often including the U.S. president.
For more information call 410-543-6030 or visit the SU Web site at www.salisbury.edu. For additional coverage of Girls State, click here.