Thursday, March 22, 2007
18th Annual SU Variety Show Auditions April 10-11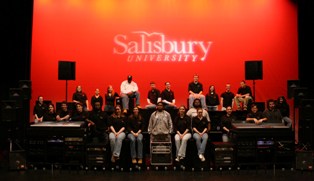 Members of the SU E-Crew prepare for the 18th annual Variety Show.

SALISBURY, MD---Get out the clarinet and tune up the tuba! Community members and Salisbury University alumni are invited to perform in the 18th annual SU Variety Show 7:30 p.m. Friday-Saturday, April 20-21, in Holloway Hall Auditorium.

Auditions are Tuesday-Wednesday, April 10-11, in Holloway Hall Auditorium. Sign-up sheets are available at the Events Services Office. Potential performers must sign up in advance to audition.

Two slots during the show are reserved for members of the Salisbury community, while two more are reserved for SU graduates. The SU Jazz Brazz Big Band, directed by Jerry Tabor, is this year's house band.

"The Variety Show is a chance for us to show what our students can do and have the community be part of the fun," said Tony Broadbent, who directs.

Produced by the SU E-Crew, admission is $5, and the public is invited. SU ID holders receive one free ticket. For more information call 410-548-4597.