Monday, October 23, 2017
13th Annual Shore Fraud Conference Held at SU Friday, November 17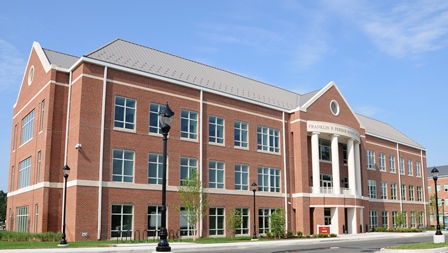 SALISBURY, MD---Some of the nation's most prominent anti-fraud experts convene at Salisbury University during the 13th annual Shore Fraud Conference 7 a.m.-5 p.m. Friday, November 17, in Perdue Hall's Bennett Family Auditorium.
Speakers include Christopher Rosetti, chief operating officer of the New York State Nurses Association Pension Plan; Alan Bachman, former education manager with the Association of Certified Fraud Examiners; Pulitzer Prize-winning journalist Jeff Gottlieb; and Walt Pavlo Jr., founder of Prisonology.com.
Rosetti speaks on "Detecting Deception Misconception," pointing out ways common interview deception techniques may not be accurate predictors of whether someone is telling the truth. Prior to his current position, managing a $2.6 billion pension and benefit fund, he served as director of forensic accounting for KPMG and was a partner for BST's Forensic Accounting Group. He spent six years as a confidential investigator for the New York State Office of the Inspector General and is on faculty with the Association of Certified Fraud Examiners. He also has taught accounting courses at colleges in upstate New York.
Bachman discusses "Ethics and the Mindset of the Fraudster." With more than four decades of fraud investigation experience, he worked in higher education as director of an audit unit and was project manager on several information technology implications specializing in security. His largest investigation, uncovering some $1.5 million in fraud, was conducted during this time. In addition to teaching college courses and hosting anti-fraud training sessions, he has served as a consultant for the retail, real estate and manufacturing industries, with extensive consulting for small businesses.
Gottlieb speaks on "Bell California — A Total Breakdown," discussing his investigative efforts that allowed him to share a 2011 Pulitzer Prize for Public Service Reporting while working at the Los Angeles Times. His stories, uncovering widespread corruption, led to the conviction of seven city officials, statewide legislation and an increased national focus on the salaries of public officials. He also earned the prestigious George Polk Award in Journalism for uncovering Stanford University's questionable spending of federal funds while working for the San Jose Mercury News. Gottlieb also has worked as an editor for Sports Illustrated and written for publications including Time, Rolling Stone and Mother Jones.
Pavlo's presentation, "Stolen Without a Gun," details what he calls "confessions from inside history's biggest accounting fraud: the collapse of MCI-WorldCom." Recognized as one of the leading speakers on white-collar crime, he is a contributor to Forbes.com and the New York University School of Law's Corporate Compliance and Enforcement Program. Through his website, he offers consulting, training and expert testimony on the post-conviction process of the federal justice system.
The Delmarva and SU chapters of the Institute of Management Accountants (IMA), Accounting and Legal Studies Department of SU's Franklin P. Perdue School of Business and the Iota Pi Chapter of Beta Alpha Psi Accounting Honor Society sponsor the conference. This year's event is accredited by the National Association of State Boards of Accountancy as a member of the National Registry of Continuing Professional Education Sponsors.
The conference is open to the public. Cost is $125. For more information including a brochure and registration form, call 410-430-0469, email rfabel@salisbury.edu or visit the conference website at www.shorefraudconference.com.