Monday, January 22, 2018
Perdue Faculty Win $10K in Molson International Case Writing Competition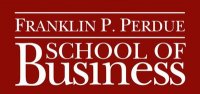 SALISBURY, MD---Drs. Frank Shipper and Richard Hoffman of Salisbury University's Management and Marketing Department recently won the $10,000 top prize in the 2018 John Molson M.B.A. International Case Writing Competition.

Their case, "John Lewis Partnership and Brexit or Not – What Now?" then was used as a topic in the Molson graduate case competition, involving 144 of the world's top M.B.A. students, representing 36 schools in 19 countries.

The case study was selected from among some 43 entries from institutions of higher education including Northeastern University, IMD Business School (Switzerland), University of Maryland College Park, Concordia University (Canada), University of Nevada, and the Institute of Management Technology (India).

Talking about the SU submission, competition organizer Jesse Prent said: "This was a particularly exciting case, as it was the last one before the cut to the semifinal round – only the top nine teams could move on. We picked the JLP case for this slot because of the significant challenge we knew it would present to the students and because of the fascinating ownership angle that was completely different than any of our other business ownership-themed cases. The response was overwhelmingly positive. I spoke to one team who actually lost the match against their opponent by the highest margin possible, and yet they still praised the case as their favorite of the week."

Shipper and Hoffman will present their award-winning case study at the Franklin P. Perdue School of Business' 2018 Faculty Research Colloquium. Their talk is 1:30-2 p.m. Friday, January 26, in Perdue Hall Room 373.

They also will discuss "Is Industrial Democracy Relevant Again? Case Studies from Europe and the U.S." from 1-1:30 p.m. in the same location.

Recently, the professors were invited to the Louis O. Kelso Mid-Year Fellows Workshop at Rutgers University to lead a workshop on how to conduct and publish case studies, and present their award-winner.

Admission to their SU talks is free, and faculty, staff, students and the public are invited. For more information, call 410-543-6030 or visit the SU website at www.salisbury.edu.