Wednesday, January 17, 2018
Salisbury Film Society Presents 'The Big Sick' February 4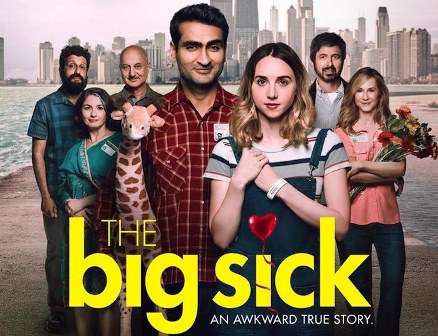 SALISBURY, MD---The Salisbury Film Society (SFS) presents the romantic comedy, The Big Sick 2:30 p.m. Sunday, February 4, in Fulton Hall 111.
Debuting at last year's Sundance Film Festival and nominated for a Screen Actors Guild Award, the film is based on the real-life courtship between Kumail Nanjiani and Emily Gordon. It tells the story of Pakistan-born aspiring comedian Kumail, who connects with grad student Emily after a standup set. When Emily suddenly falls, Kumail must balance being a comedian and dealing with tragic illness with her parents, who he's never met. He is challenged to figure out who he really is and what he truly believes in.
Manohla Dargis of The New York Times said, "I fell hard for both Ms. Kazan and Mr. Nanjiani and The Big Sick, which tells a great story with waves of deep feeling and questions of identity and makes the whole thing feel like a breeze."
The SFS series is co-sponsored by the Salisbury Wicomico Arts Council (SWAC) and SU's Charles R. and Martha N. Fulton School of Liberal Arts.
Other films screening this semester include: Carrie Philby, (March 4), A Quite Passion, (April 8), and Separate, but Equal, (May 6).
Tickets are $9, $8 for Salisbury Wicomico Arts Council members, $20 for 4-film season ticket, and free for college and university students with ID. For more information call 410-543-ARTS (2787) or visit the SWAC website at www.543arts.org.