Wednesday, November 8, 2017
Dr. William Folger Continues Feature Fridays Series December 8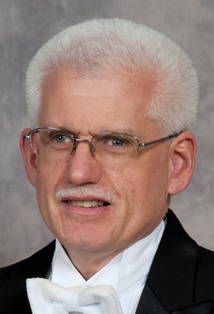 SALISBURY, MD---Salisbury University's fall Feature Fridays downtown Salisbury lecture and performance series concludes with a "Holiday Favorites Sing-Along" led by Dr. William Folger 6 p.m. December 8 at The Brick Room, 116 N. Division St.

The chair of SU's Music, Theatre and Dance Department, Folger is the head of choral activities at SU. He also serves as director of the Salisbury and University chorales, and musical director of the SU Musical Theatre Ensemble.

Beyond Salisbury, he has performed with instrumental and vocal artists in New York, Massachusetts, North Carolina and West Virginia. He is a past winner of the University of North Carolina at Greensboro's (UNCG's) conducting competition, leading the combined North Carolina Symphony and UNCG Symphony Orchestra.

Sponsored by the Whaley Family Foundation and SU's Center for Extended and Lifelong Learning (CELL), admission is free and the public is invited (must be 21 to enter). Charges apply for food and drinks.

For more information call 410-546-6090 or visit the CELL website at www.salisbury.edu/cell.