Wednesday, September 13, 2017
Puppeteer Joseph Cashore Performs 'Life in Motion' Tuesday, October 10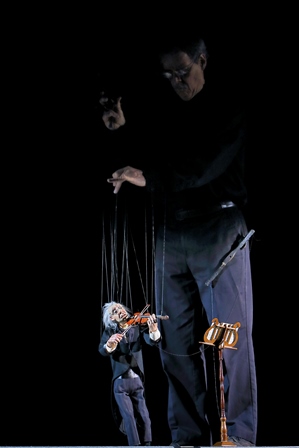 SALISBURY, MD---For more than 30 years, puppeteer Joseph Cashore has been synonymous with the term "marionette" in the U.S.
The artist brings his hand-crafted marionettes to Salisbury University for the performance Life in Motion 7 p.m. Tuesday, October 10, in Holloway Hall Auditorium. Part of SU's "The Best of the Best" fall cultural events series, the show features scenes from everyday life set to classical music by composers including Beethoven, Vivaldi, Strauss and Copland.
A screening of the documentary Up Close with the Cashore Marionettes, showcasing Cashore's studio and the process of creating a marionette, precedes the performance at 7 p.m. Monday, October 9, in the Great Hall of Holloway Hall.
Cashore's fascination with marionettes began when he saw his first one in person at a gift shop on the New Jersey shore while on vacation around age 10. In the past three decades, he has earned some of puppetry's highest honors, including a Jim Henson Foundation grant to promote the craft to adult audiences and a Pew Fellowship for Performance Art.
Touring the U.S., Europe and Japan, he also has received the field's highest accolade, the Union Internationale de la Marionette-USA (UNIMA-USA) Citation of Excellence. In addition, he has been featured in the publications including Puppetry International.
The Richmond Times-Dispatch called Life in Motion "hilarious" and "amazing." The Deseret News hailed it as "an evening to see, a rarity … and a fine expression of unique talent."
Sponsored by SU's Cultural Affairs Office, admission is free and the public is invited. Tickets are not required.
This event is made possible, in part, by a grant from the Salisbury Wicomico Arts Council, awarded by the Maryland State Arts Council and the National Endowment for the Arts.
[Relative Links] For more information call 410-543-6271 or visit the SU website at www.salisbury.edu.