Thursday, August 24, 2017
The Villalobos Brothers Perform During SU's Hispanic Heritage Month Festival September 20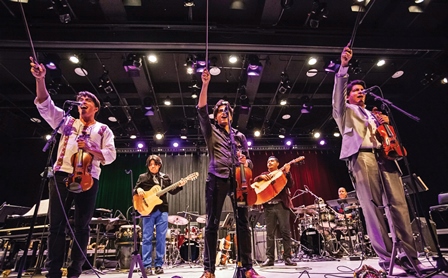 SALISBURY, MD---Hailing from Veracruz, Mexico, the Villalobos Brothers blend and celebrate the richness of Mexican folk songs with the intricate harmonies of jazz and classical music.

The award-winning band performs as part of Salisbury University's Hispanic Heritage Month Festival 7 p.m. Wednesday, September 20, in Holloway Hall Auditorium.

The Villalobos Brothers have won the Independent Music Awards' Vox-Pop Award in the "Best Song – World Beat" category. The group was the grand champion of National Public Radio's (NPR's) "Battle of the Boroughs" in New York and was the first band from Mexico to play as a featured guest artist at the historic Apollo Theater. Its members shared the stage with Regina Spector, Pet Shop Boys and Los Tigres del Norte at Cumbre Tajin, one of Latin America's biggest music festivals.

The group has performed at some of the most prestigious venues in the U.S., including Carnegie Hall, Lincoln Center, the Kennedy Center for the Performing Arts, Rockefeller Center, the Guggenheim Museum, the Metropolitan Museum of Art, Shea Stadium and Hollywood's Ford Theatre. It also has been featured live at special events including the Latin Grammy Awards and the United Nations' 60th anniversary.

In addition, the band has played for thousands in India, Russia and Cuba. The Villalobos Brothers have collaborated and recorded with Grammy-winning musicians including Dolly Parton. Its first studio album, Aliens of Extraordinary Ability, was released in 2012.

USA Today has lauded the band as "a crazy ball of sound … Mexican coastal traditions meet Sam Cooke in the Bronx." NPR has noted the group's "energy and upbeat sound," noting that its brand is "contemporary, high-octane Mexican fiddling."

Sponsored by the Cultural Affairs Office, admission is free and the public is invited. No tickets are necessary.

This event is made possible, in part, by a grant from the Salisbury Wicomico Arts Council, awarded by the Maryland State Arts Council and the National Endowment for the Arts.

For more information call 410-543-6271 or visit the SU website at www.salisbury.edu.