Monday, May 15, 2017
SU's Thompson Earns Gearhart Professional Service Award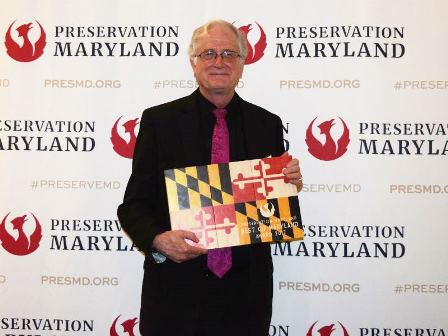 SALISBURY, MD---When Dr. Ray Thompson retired from Salisbury University's History Department in 2016 after 44 years, he left behind a legacy that will impact students, genealogists and local history researchers for generations.

For his efforts, Preservation Maryland recently recognized Thompson with its prestigious Gearhart Professional Service Award during the organization's annual Best of Maryland awards ceremony.

He was nominated by Aleta Davis, a member of the board of directors for SU's Edward H. Nabb Research Center for Delmarva History and Culture, which Thompson co-founded with fellow History Department faculty Sylvia Bradley in 1982.

Originally called the Delmarva Historical Archives, the Nabb Center began with an idea that history majors should not just read about local heritage, but use anthropological, archaeological and historical records to better understand the cultural and social development of the region.

What began as a pair of filing cabinets now occupies half of the fourth floor of SU's Patricia R. Guerrieri Academic Commons. Under the auspices of SU Libraries, it includes professional archival storage and maintenance space, as well as document scanning facilities, a traditional reading room and two galleries — one of which is named in Thompson's honor.

"Dr. Thompson has dedicated his life to education and the preservation of our historic homes and artifacts on the Eastern Shore," said Davis, also noting his expertise in ancient Greek, Roman and Egyptian history.

"Because of Dr. Thompson's outreach efforts in the community, not only has he acquired countless donations for family research, and books on Native Americans, African Americans, church and cemetery records of the Eastern Shore; he also has been responsible for donations of many thousands of dollars to support the Nabb facility, as well as furnishings, portraits, clothing and other artifacts from the last three centuries."

Today, the center is home to the oldest continuous records from British-speaking America, going back to 1632. Its staff continues to collect documents that may be of interest to future historians, such as signs created by Delmarva residents participating in international Women's March events earlier this year.

"Dr. Thompson's impact will be felt for generations to come, just as his research has unearthed the impact of those generations who came before us," said Nick Redding, executive director of Preservation Maryland. "He is a preservationist without comparison, and we are pleased to have an opportunity to celebrate his remarkable achievements."

In addition to his work with the Nabb Center, Thompson also has been involved with preservation efforts at regional historical landmarks including, Pemberton Hall and Poplar Hill Mansion in Salisbury; the Rackcliffe House in Assateague Island, MD; Handsell House outside Vienna, Md., Whitehaven Hotel in Whitehaven, MD, and most recently, historic St. Martin's Church in Worcester County. As a member of Wicomico County Historic Properties, Inc., he has helped restore several historical buildings in the area. He also is a member of Preservation Trust Wicomico and serves on the Wicomico Historic District Commission.

Academically, Thompson is a past recipient of SU's Distinguished Faculty Award. He also has earned two National Endowment for the Humanities awards and has served on the Maryland Governor's Advisory Board to the National Historic Publications and Records Commission.

Founded in 1931, Preservation Maryland is the state's oldest and largest non-profit preservation organization, providing advocacy, outreach, education and funding for historical sites throughout Maryland.

For more information call 410-543-6030 or visit the SU website at www.salisbury.edu.