Wednesday, May 10, 2017
SU Green Fund Brings Beehives to Campus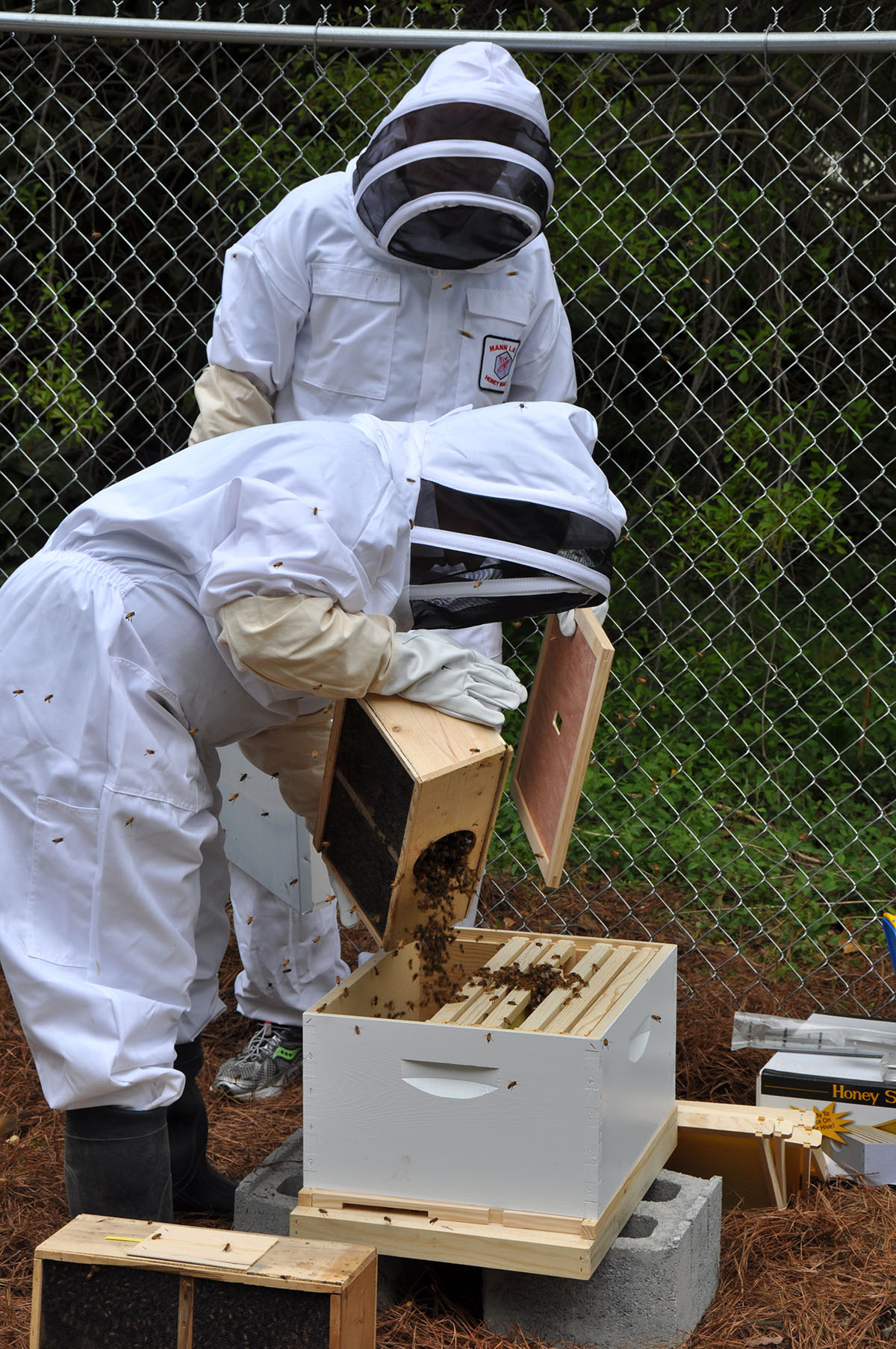 SALISBURY, MD---Inside the classroom, Salisbury University students can learn about a wide variety of subjects, from education and professional studies, to laboratory and health sciences, to business, to the liberal arts.

Outside, they now have one more option: beekeeping.

During Earth Week, SU faculty installed four beehives on the periphery of campus. Students may use the new facility to study bees as an extracurricular activity.

The $2,500 project was proposed by a team including Drs. Jessica Walter of the Health and Sport Sciences Department (a beekeeper outside of her SU duties) and Stephen Gehnrich, chair of the Biological Sciences Department, with sophomore biology major Myra Dickey of Annapolis and senior junior biology major Ian Ralph of Salisbury. It was paid for through student sustainability fees. Each semester, individual students and student-faculty-staff teams are invited to submit environmental proposals for consideration through SU's Green Fund initiative.

The students said they submitted their project based on a desire to more closely study honey bees, a species that has seen a decline in recent years.

"Honey bees impact us by being crucial pollinators of fruits, nuts and vegetables that we eat daily," said Dickey. "If the honey bees were gone, it would affect the global economy, causing us to lose about one-third of our crops that are solely pollinated by bees. We also would see detrimental effects to the environment and society.

"Choosing to do research on bees is a way we can help better understand the species and the effects that humans have on their decreasing numbers. Deciding to bring bees on campus is a great opportunity to keep their numbers high in our area, as well as to benefit local gardens and the campus arboretum."

Ralph began researching bees with Gehnrich after receiving encouragement from his student research partners, including Dickey. "I quickly realized that bee research is very exciting, and to continue and start new projects, we needed a hive of our own," he said.

Walter and Gehnrich filled the hives with hundreds of bees supplied by SU professor of education emeritus and local beekeeper Dean Burroughs, who transported them overnight from colonies in Georgia.

Setup of the hive area include laying down dozens of pounds of dry pine needles, collected by student volunteers from the lawns of University neighbors during the Student Government Association's recent Big Event community cleanup day.

While the project may start out as an optional way for students to learn a little more about bees, it eventually could be incorporated into curriculum for the University's environmental studies major, said Wayne Shelton, SU director of campus sustainability and environmental safety.



As part of the beekeeping project, students will plant wildflowers in a small meadow behind the hives, where the bees may feed and pollinate. Residents around the University may see bees (SU's and others) foraging on flowers in their yards, as well. There is little to fear, however, and the bees' presence could be beneficial for area plant life, Walter said.

"They are very docile while foraging for nectar and pollen, and pollinate the flowers they visit," she said.

For more information call 410-543-6030 or visit the SU website at www.salisbury.edu.