Tuesday, April 25, 2017
SU's Pfeiffer Performs 'Apology for the Life of an Actor' May 19-20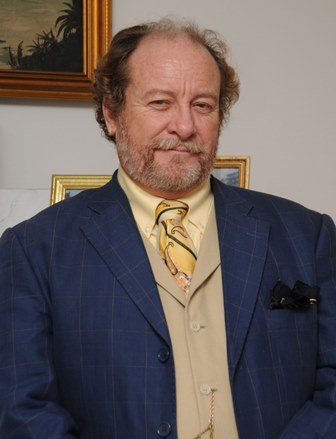 SALISBURY, MD---Dr. T. Paul Pfeiffer of Salisbury University's Music, Theatre and Dance Department makes his final bows (before retiring) with two performances of his critically acclaimed one-man play Apology for the Life of an Actor Friday-Saturday, May 19-20.

Curtain is 7:30 p.m. in the Black Box Theatre of Fulton Hall.

Last seen in 2009, the play debuted at SU in 1992. It returns for a good cause: Proceeds from Saturday benefit a performance fund founded in Pfeiffer's honor. The fund will help purchase special props and equipment for SU's Bobbi Biron Theatre Program.

"It will assist in production needs, especially for classical theatre," said Pfeiffer. "There is always something, like [prop] weapons, that is an odd expense that we have to find the money for. We want to make sure there's not a detriment in doing these kinds of plays. Now there will be money that can be used at the theatre faculty's discretion.

Written and acted by Pfeiffer, Apology for the Life of an Actor explores the memoirs of Colley Cibber, a real-life 18th century actor, theatre manager and poet who rewrote Shakespeare "in order to make him fitter for the stage." Mocked by his contemporaries, the Cibber character reviews his own history and marks the end of his career with backstage gossip, and tales of onstage triumphs and disasters.

"He is about to do his last performance in the role that made him famous," said Pfeiffer. "In those days, nobody 'outgrew' a role. You didn't get too old; you just continued it through your whole life. People weren't looking at it in the sense of realism that you expect now. They were looking at the skill of that polished actor who had been doing the role for years and years.

"The premise is that the audience has come backstage to visit Cibber in the dressing room, as was the custom. People would pay a little extra money to the stage manager and be allowed to come backstage. Now, he's in a position where he has to entertain everybody while he gets ready for the performance, so he talks about his career."

Pfeiffer offered the script to the Royal Shakespeare Company in 1999. This lead to two successful runs in Stratford-upon-Avon, under the direction of the late Michael Mundell, with veteran British actor David Ryall playing Cibber.

Critics lauded the play: "There is so much here to delight an audience: the rivalries, the malice, the joy of performance and the naughty gossip all brought swiftly into the house. … All of it is glorious and, if you love theatre, you will be in Seventh Heaven, and that I promise," said Richard Edmonds of the Birmingham [England] Post.

When Apology was featured at Scotland's Edinburgh International Fringe Theatre Festival in 2000, Pfeiffer again starred. In 2004, he won a Maryland State Arts Council Individual Artist Award for his work.

Pfeiffer's Cibber is "both humble and vain, still brimming with love for his craft; a liar yet lovably roguish," said James Mulligan of The Scotsman. "With greasepaint and periwigs aplenty, it is a fascinating time travelogue, a hilarious and credible hymn of praise to the joy of entertaining."

"On the surface it's about this man's career," Pfeiffer said. "During the first half, he's preparing for his stage appearance and talks with joy about life in the theatre. The second half, after his last performance, is darker, more cynical and bitter. Underneath is something I think a lot of people can relate to. I identified with the aspect of Cibber's personality which called upon his tenacity and diplomacy to survive in a highly competitive industry and to pull himself up above his 'roots' to a level of great success."

Admission to Friday's performance is free.

"I wanted to offer this as my gift to our students," he said. "This is my parting gift to the campus community."

Admission to Saturday's performance — the last of Pfeiffer's 37-year SU career — is $50, including a reception. The public is invited.

To purchase tickets or for more information visit the SU Theatre and Dance Department website at www.salisbury.edu/performingarts or call the SU Box Office at 410-548-5588.