Wednesday, November 30, 2016
Perdue School Receives Over $100,000 for Fraud Library, Software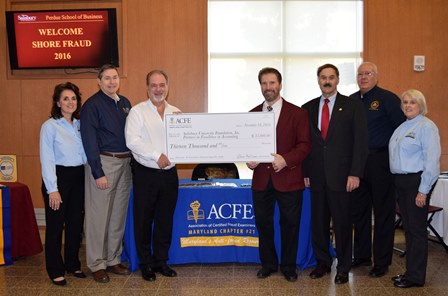 SALISBURY, MD---Highlights of the 12th annual Shore Fraud Conference at Salisbury University included the donation of more than $100,000 in funds and software to SU's Franklin P. Perdue School of Business.

The Association of Certified Fraud Examiners, Maryland Chapter 21, presented $13,500 to the Perdue School to fund a fraud library at SU. A donation of $90,000 in software from Audimation, Inc., of Houston, TX, also was announced. The gift will establish a financial analytics laboratory to support the fraud program offered by the Perdue School's Accounting and Legal Studies Department.

"When most people think 'business,' they don't automatically think 'fraud,'" said Dr. Christy Weer, dean of the Perdue School. "However, as many cases have shown us, fraud is an unfortunate part of the business world, and it is important for our students to have the knowledge to identify and fight it. These generous donations will give us the tools we need to better educate them on how to do that."

Founded in 2005, the Shore Fraud Conference brings together some of the top financial fraud experts in the nation to Salisbury each year. Some 275 attended this year's event.

For more information call 410-543-6030 or visit the SU website at www.salibury.edu.