Wednesday, August 31, 2016
SU Welcomes Executive Chef John Lakatosh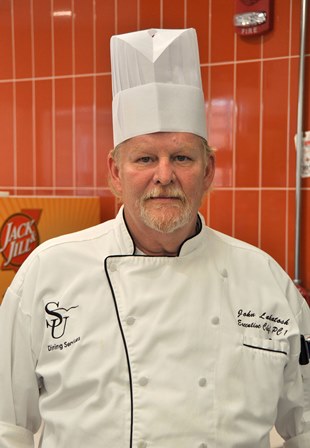 SALISBURY, MD---When Salisbury University Executive Chef John Lakatosh took the reins in the kitchen at Salisbury University's Commons earlier this year, he brought with him decades of experience — and not just in cooking.

Lakatosh has been instrumental in the upgrades and expansion to University Dining Services (UDS) venues to be unveiled during the fall semester, said Owen Rosten, UDS manager.

The chef is no stranger to college settings. During his nearly four-decade career, he has assisted in opening dining halls at Johns Hopkins, St. Bonaventure and Frostburg State universities; Sweet Briar and Thomas More colleges; and the universities of Toledo and Kentucky

From 2007 until coming to SU, he served as a regional executive chef for a Mid-Atlantic consortium covering more than 30 universities. He also has worked in dining and space design at medical facilities and private restaurants.

His experience in those fields helped with the redesign of many facets of the Commons, Rosten said. His background in campus convenience store design and building his own branded restaurant from scratch in the 1990s also paid off in determining layout and offerings at Hungry Minds Express, the eatery in SU's new Patricia R. Guerrieri Academic Commons.

In addition to his skills in the kitchen and dining room, Lakatosh has a creative spirit in all he touches, Rosten said. He prides himself on continually pushing the boundaries of what students would normally expect in a campus dining program. One new offering at Hungry Minds, for example, is the Tex-Mex-inspired Dr. Janet's South of the Border Burger (named for SU President Janet Dudley-Eshbach).

For more information call 410-543-6105 or visit the SU Dining Services website at www.salisbury.edu/dining.