Friday, July 15, 2016
Arbor Day Foundation Announces Tree Campus USA Honors for SU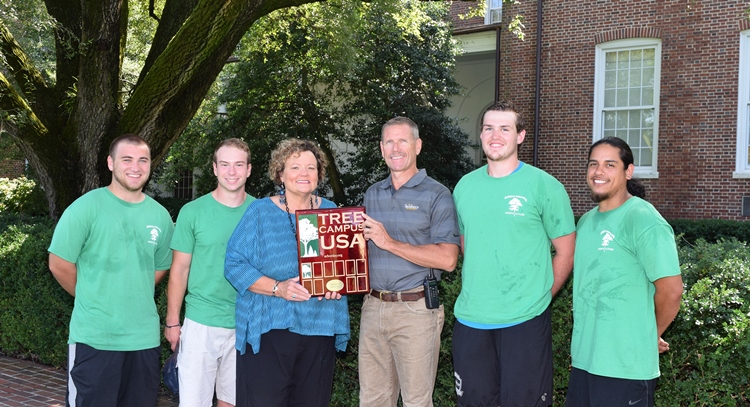 SALISBURY, MD---The Arbor Day Foundation recently announced Tree Campus USA recognition for Salisbury University, honoring the institution's commitment to promoting healthy trees and engaging students and staff in the spirit of conservation.

SU was one of only 254 campuses in the nation to earn the distinction this year.

"One of the comments I often hear from visitors is, 'SU has a beautiful campus,'" said President Janet Dudley-Eshbach. "This is by design. Our Horticulture and Grounds Department works diligently to plant, cultivate and maintain the many trees, shrubs, vines, annuals and perennials on campus. This isn't just for looks: Through the University's national arboretum designation, the trees and other greenery play important roles in SU's commitment to sustainability and education. Our goal is to create an environment where people want to live, study, work, learn and grow. The arboretum, in its multiple facets, is important for such success."

Colleges and universities receiving Tree Campus USA recognition must meet several core standards for sustainable campus forestry: establishment of a tree advisory committee and a campus tree care plan, dedicated annual expenditures for the campus tree program, an Arbor Day observance and sponsorship of student service-learning projects.

For many years, the Maryland Department of Natural Resources' (DNR's) Forest Service and Forestry Council have recognized SU as a "People Loving and Nurturing Trees" (PLANT) Community, awarding the campus its highest honor: the Green PLANT Award.

The Maryland Big Tree Program, in connection with the Maryland State Association of Forest Conservancy District boards and DNR, has recognized three species of trees at SU (Crimean linden, balsam fir and Korean pine) as the state's largest. Five others (white oak, black oak, American elm, Japanese zelkova and eastern redbud) were named the largest of their species in Wicomico County.

The 183-acre campus has been praised as an outdoor laboratory for students and for maintaining more than 2,000 species of woody and herbaceous plants for public view.

Pictured is Dudley-Eshbach being presented with the Tree Campus USA Award by Frank Bowen, SU assistant director of physical plant for horticulture and grounds. With them, from left, are SU students working in the Horticulture and Grounds Department: Michael Wieczorek (nursing major), Bradley Coon (physics), Trevor Skoglund (exercise science) and Mike Schulze (physical education).

For more information call 410-543-6030 or visit the SU arboretum website at www.salisbury.edu/arboretum.