Wednesday, June 22, 2016
SU Student Diversity Poster Contest Winner Announced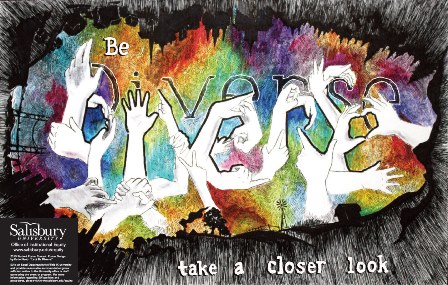 SALISBURY, MD---When Salisbury University's Office of Institutional Equity challenged students to design posters promoting diversity, Kacie Neeb of Owings Mills, MD, didn't think of just people — she incorporated places, as well.

With her entry, "Let's Be Diverse," Neeb won the office's inaugural student diversity poster contest, earning a $500 gift certificate to the SU Bookstore.

The contest, which was based on the theme "Just Community" this year, prompts students to creatively express what diversity means to them. Over time, these posters will serve as visual representations of the University's commitment to fostering a diverse and inclusive campus community.

The freshman art major's winning design featured the word "diverse," spelled with hands, surrounded by a border representing environments evoking rural, urban and suburban landscapes. Its caption, "Be diverse; take a closer look," encourages viewers to "dig a little deeper and look past one's differences," she said.

Beyond the imagery, Neeb also considered the color palette when designing the poster.

"The plethora of shades in the wash of colors instills themes commonly linked with a rainbow, including diversity and acceptance," she said.

Her poster will be distributed throughout campus this summer and displayed during the 2016-17 academic year.

Dotty Sexton, a sophomore social work major from Elkton, MD, placed second with her entry, "Diversity Amongst Community."

"My mission was to choose random community members and ask them how they felt about diversity and stereotyping, and then ask them if they would be interested in helping me with a project to help the fight against stereotyping in the efforts of promoting diversity," she said.

Sexton asked the subjects to make a sign with a stereotype under which they thought they fell and pose for photos with the sign. She then used the pictures to create a collage for her poster. Her efforts were rewarded with a $250 SU Bookstore gift certificate.

For more information call 410-543-6030 or visit the SU website at www.salisbury.edu.