Thursday, June 9, 2016
New Student Experience Outdoor Programs Focus on Service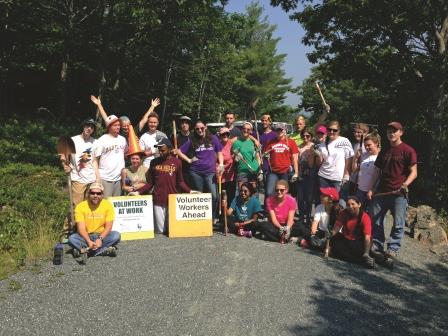 SALISBURY, MD---For more than 30 years, incoming first-year students at Salisbury University have engaged in summer outdoor orientation programs, from canoeing in Canada and hiking in Maine, to biking on the Eastern Shore.

A new offering now gives them the chance to volunteer and make a difference in the local community – even before arriving on campus for classes.

Sea Gulls Serve Salisbury is one of five New Student Experience programs being held in July and August.

During the four-day program, students will assist various community entities including the Chesapeake Housing Mission, Hope and Life Outreach (HALO) and the Salisbury Zoo. They also will help with beach clean-up and with a community garden. In their free time, they will experience meals at local restaurants, downtown Salisbury and other fun Delmarva activities, including a Shorebirds baseball game and Ocean City.

"It is a unique orientation program that introduces new students to each other and to the importance of service within their local community," said course director Charlie Endicott, SU's associate director of career services.

The program is run by the SU Volunteer Center, which connects students with organizations in need. Civic engagement is a pillar of an SU education.

SU's longest-running outdoor programs are Algonquin Canoe, which takes students to camp and canoe in Algonquin Provincial Park in Canada; and Acadia Adventure, which allows them to explore a coastal Maine island by hiking, biking and camping in Acadia National Park.

Students earn three interdisciplinary studies credits for participating in those two programs, along with Bikes, Beach and Beyond, an on-campus program designed to acclimate participants to the Salisbury community and the Eastern Shore. Another local program, Achieve at Assateague, offers leadership development, teambuilding and camping activities while exploring a nearby barrier island. Several programs also engage in service projects.

All of the programs offer students a head-start at getting acquainted with SU and college life, in general. They meet friends and develop a supportive group of peers, and faculty and staff leaders prior to the fall semester.



When Algonquin and Acadia started in the 1980s, the concept of a wilderness experience was unusual. A model for other universities, SU's outdoor orientation was named a Distinguished Program for Student Services in 1986 by the Maryland Association for Higher Education. The honor stemmed, in part, from the higher graduation rates, strong campus involvement and academic success among student participants.

To register or for more information about SU's 2016 outdoor orientation programs, visit http://www.salisbury.edu/newstudexp/OutProgs/Incoming%20Freshmen.html.