Tuesday, May 3, 2016
Mazzetti Earns Outstanding Research Mentor Award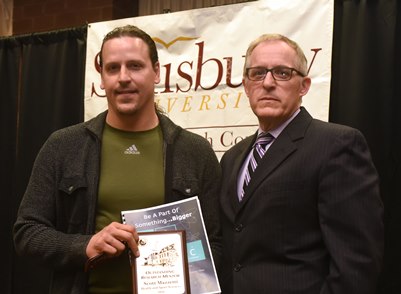 SALISBURY, MD---A Health and Sport Science professor – who students say passes lessons from his own mentors on to them – has earned Salisbury University's 2016 Outstanding Research Mentor Award.

Dr. Scott Mazzetti was recognized at SU's 15th annual Student Research Conference (SUSRC). The honor celebrates faculty mentors who are excellent supervisors of student research or creative work.

"Dr. Mazzetti has pioneered his way to the top of his field due to his hard work, commitment to learning and, most importantly, his mentors along the way," said SU student Nick Carlini, who nominated him. "There is always a new person he is talking to us about that he has worked with or [who] had an influence on him in the past."

Carlini, an exercise science major, credits Mazzetti with providing "advice, support and criticism" that is critical to students' professional development. Mentoring "transforms the lives of many students," Carlini added.

In addition to teaching classes, Mazzetti guides students as director of SU's Laboratory for Human Performance (LHP), which he founded in 2007. The primary mission of the LHP follows the "learning by conducting research" concept, which was derived from the Association of American Colleges & Universities Project Kaleidoscope. Other principles of the LHP include living life with a constant research mentality, and taking leadership of lab activates. Students have the opportunity to lead various components of the research process, teaching them independence and problem-solving skills.

"Dr. Mazzetti has been a long-standing member of the SUSRC faculty steering committee," said Dr. Clifton Griffin, SU's dean of graduate studies and research. "He empowers students by teaching the importance of learning 'the details' associated with being a great researcher. Scott has been incredibly successful at mentoring high-achieving undergraduate researchers that end up in highly competitive graduate student research positions at large research universities."

Mazzetti earned his Ph.D. in Human Bioenergetics from the Human Performance Laboratory at Ball State University in 2003. He is past president of the American College of Sports Medicine's Mid-Atlantic Chapter.

Pictured, from left, are Mazetti and Griffin.

For more information call 410-543-6030 or visit the SU website at www.salisbury.edu.