Tuesday, March 22, 2016
Pandey Explores 'Monolingualism and Linguistic Exhibitionism in Fiction' in New Book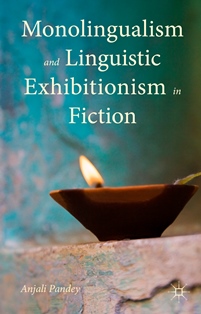 SALISBURY, MD---With over 7,000 languages in use worldwide, how do some acquire dominant status, and what role does prizewinning fiction play in creating linguistic taste?

Dr. Anjali Pandey, professor of applied linguistics in Salisbury University's English Department, explores these questions and more in her new book, Monolingualism and Linguistic Exhibitionism in Fiction, from Palgrave-Macmillan.

Pandey's study analyzes multilingual strategies used by noted transnational authors in the past decade, and demonstrates paradigm shifts toward monolingualization in the linguistic code-switching strategies deployed by 21st-century award-winning authors as compared to prize-winners of the prior century. Her work has earned praise from experts in multiple disciplines across the world.

"This wide-ranging linguistic and literary exploration of cosmetic multilingualism is a pioneering work, addressing the most neglected and yet the fascinating aspect of language mixing," said Dr. Tej Bhatia, professor of linguistics and director of South Asian languages at Syracuse University.

Globally renowned linguist Dr. Ofelia García of City University of New York's Graduate Center described Pandey's book as "groundbreaking in destabilizing traditional notions of literature tied to one language and one nation," while internationally recognized cultural and literary studies scholar Dr. Chantal Zabus of Sorbonne, Paris, called the book "bold in registering new, 21st-century forms of linguicide."

Pandey's book offers an interdisciplinary-based framework, inclusive of the macro-production of literary commerce, and the micro-linguistics of globalization. Dr. Graham Huggan, prominent professor and theorist in commonwealth and postcolonial literatures at the University of Leeds, UK, said: "There is a pressing need for more language-based work in postcolonial literary studies," noting that Pandey's "lively book helps meet that need with its in-depth study of multilingualism in the context of contemporary brand-conscious postcolonial fiction, which the author provocatively likens to 'literary outsourcing' in the wake of the global turn."

Pandey has published extensively in over 30 peer-reviewed journals and earned honors including the Maryland Higher Education Commission's Henry C. Welcome Fellowship and North Dakota's Vogel Award for Teaching Excellence.

She is the author and recipient of three competitive multi-million-dollar projects sponsored by the U.S. Department of Education's Office of English Language Acquisition. These projects have provided linguistically-rich teacher training to more than 400 educators in Maryland and served newcomer students from over 120 linguistic backgrounds.

Pandey has served on several nationally convened expert panels including most recently as a Linguistic Bias Expert for the Pearson Education Services Consortium, and as an invited reviewer for the U.S. Native American Language Preservation Program. Her areas of specialization are in critical discourse analysis, literary linguistics, visual semiotics, pedagogical linguistics, critical multilingualism studies and language in the media.

Pandey was a featured presenter at the 2015 National Association of Bilingual Education convention, and serves on Maryland's Governor-appointed English Language Learners Advisory Council. A bilingual, straddling a three-continent background, she is a committed advocate of immigrant educational access and the preservation of planetary-wide linguistic diversity.

For more information call 410-543-6030 or visit the SU website at www.salisbury.edu.