Wednesday, March 9, 2016
Pasi Sahlberg is Spring Riall Lecturer at SU Tuesday, March 22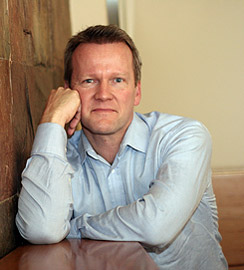 SALISBURY, MD---Dr. Pasi Sahlberg, whose work has led to educational changes in his native Finland and beyond, is this semester's speaker in Salisbury University's E. Pauline Riall Lecture Series in Education.

His presentation is 7:30 p.m. Tuesday, March 22, in Holloway Hall Auditorium.

Currently a visiting professor of practice at Harvard University's Graduate School of Education, he has worked with more than 50 education systems on four continents. He also has published over 100 books and articles on education reform.



His 2013 bestseller Finnish Lessons 2.0: What Can the World Learn from Educational Change in Finland? won that country's prestigious Grawemeyer Award. He also has received the Education Award in Finland, as well as Scotland's Robert Owen Award for Educational Innovation.

Sahlberg has taught at universities and other institutions in Finland, England and the U.S. In addition to his duties at Harvard, he serves as an adjunct professor at the University of Helsinki and the University of Oulu, Finland. He is the former director general of the Finland Ministry of Education and Culture's Centre for International Mobility and Cooperation.

The E. Pauline Riall Lecture Series is named in honor of its founder, teacher and later principal at SU's Campus School from 1929-1969. Upon her death in the late 1980s, she left a bequest providing funding for the lecture series, scholarships and an award given annually to an outstanding graduating elementary or early childhood education major.

Sponsored by the Samuel W. and Marilyn C. Seidel School of Education and Professional Studies, admission is free and the public is invited. Space is limited.

For more information call 410-543-6509 or visit the Riall Lecture Series website at www.salisbury.edu/educationspecialties/riall_lecture.html.