Monday, February 29, 2016
Maryland Senator Ed Kasemeyer Named SU's 2016 Hargreaves Fellow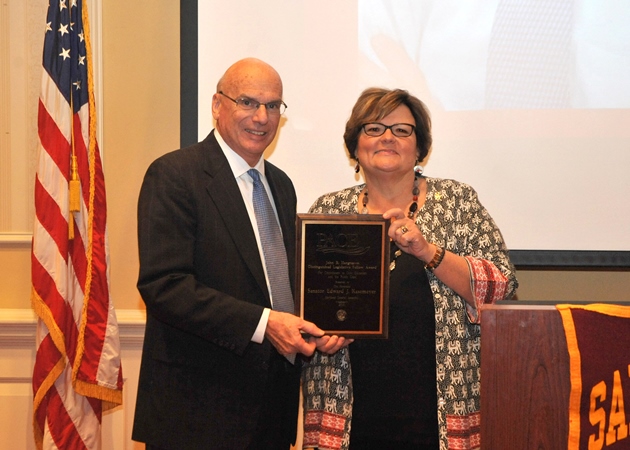 SALISBURY, MD---Maryland Senator Ed Kasemeyer is Salisbury University's 2016 John R. Hargreaves Distinguished Legislative Fellow.

In recognition of outstanding public service, the award was presented by SU President Janet Dudley-Eshbach during a ceremony at the Miller Senate Office Building in Annapolis.

"I am grateful for leaders like Chairman Kasemeyer who continue to recognize the value of higher education and its importance to Maryland's economy and workforce development," Dudley-Eshbach said. "We strive to teach our students skills for civic engagement, from volunteer work to public service. There is no better way to do this than to provide them with a role model who demonstrates the values of active citizenship, personal integrity and strong leadership. Chairman Kasemeyer is a shining example."

A small businessman and community leader, Kasemeyer was first elected to the Maryland Senate in 1987. He previously served one term in the Maryland House of Delegates. He represents Baltimore and Howard Counties.

During his tenure he has served as deputy majority leader and majority leader. Currently he chairs the Budget and Taxation Committee. He also has chaired its subcommittee for heath, education and human resources, among others. In addition to education, he has been a strong supporter of services for the developmentally disabled and others in need. As a member of the Maryland Economic Development and Business Climate Commission, he also has been a proponent of "keeping Maryland open for business."

A lifelong Maryland resident, Kasemeyer attended public schools in Baltimore City and Howard County, as well as Western Maryland College (now McDaniel). He has been involved with several Howard County boards, including its housing alliance, conservancy and hospital. He is former president of the Greater Howard County Chamber of Commerce. A father of five, he lives in Columbia with his wife, Pam.

"The Hargreaves Fellowship allows SU students to learn firsthand from outstanding state legislators about their work on behalf of the citizens of Maryland," said Dr. Maarten Pereboom, dean of SU's Charles R. and Martha N. Fulton School of Liberal Arts. "We look forward to Senator Kasemeyer's visit to campus later this spring."

Kasemeyer is the 15th recipient of the Hargreaves Fellowship. Past honorees include House Speaker Michael Busch; Senate President Thomas V. "Mike" Miller; senators J. Lowell Stoltzfus, Brian Frosh, Rob Garagiola, Thomas "Mac" Middleton and George Edwards; and delegates John Bohanan, Talmadge Branch, Addie Eckhardt, Sheila Hixson, Adrienne Jones, Norman Conway and the late Howard "Pete" Rawlings.

Sponsored by SU's Institute for Public Affairs and Civic Engagement (PACE), the award was made possible by contributions to SU in memory of the late John R. Hargreaves, a legislator from Caroline County.

Pictured above, from left, is Kasemeyer with Dudley-Eshbach.

For more information call 410-543-6030 or visit the SU website at www.salisbury.edu.