Thursday, February 4, 2016
Allegheny Baroque Ensemble Performs at SU with Guest Countertenor Eric Brenner February 24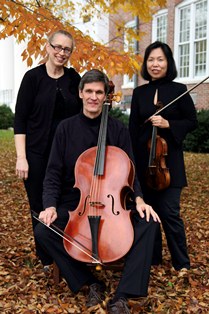 SALISBURY, MD---Guest countertenor Eric Brenner joins the Allegheny Baroque Ensemble during the concert "Music Across the Alps" 7 p.m. Wednesday, February 24, in the Great Hall of Holloway Hall.

Featuring violinist Sachi Murasugi, cellist Jeffrey Schoyen and harpsichordist Gwendolyn Toth, the program includes instrumental works by Telemann, Marini and Jacchini performed on period instruments. Brenner joins the ensemble in performing arias, cantatas and other vocal works by J.S. Bach, Buxtehude and Merula.

Murasugi has performed extensively as a professional orchestral and chamber musician. She has been concertmaster of the Sorg Opera Orchestra in Ohio and the Filarmonic del Bajio in Mexico. She also has been a member of the West Virginia Symphony, Louisiana Philharmonic and Springfield Symphony and received the National Endowment for the Arts Rural Residency Grant in chamber music. She is concertmaster of the Salisbury Symphony Orchestra at SU.

Conductor and music director of the SSO and the Salisbury Youth Orchestra, Schoyen teaches cello and bass, and is an associate professor at SU. He has given concerts throughout the United States, Germany, Mexico, Spain and Ecuador, and received a Frank Huntington Beebe Grant to study in London with William Pleeth. He is also a Tanglewood Gustav Golden Award recipient.

Toth is one of only a handful of American conductors of historical performance ensembles and orchestras. She is the founder and director of ARTEK. Internationally, she has performed at festivals in Holland and the Czech Republic. She has released several albums, including a CD of Bach's Goldberg Variations on the lautenwerk and a compilation of works by Heinrich Scheidemann on the meantone organ.

Hailed by The New York Times for his "astonishing solo singing" and "penetrating eloquence," Brenner has performed at many of the world's premier concert halls. He made his solo debut in Bernstein's Chichester Psalms at Cornell University and has sung the work many times since then, including performances at Carnegie and Avery Fisher halls. His recent projects include eight sold-out performances in the role of Doodle in Stefan Weissman and David Cote's acclaimed chamber opera Scarlet Ibis.

Sponsored by the Music, Theatre and Dance Department, admission is free and the public is invited. For more information call 410-543-6271 or visit the SU website at www.salisbury.edu.