Thursday, January 7, 2016
SU Art Galleries Presents 'Razing the New Deal: An Exploration in Architecture and Identity'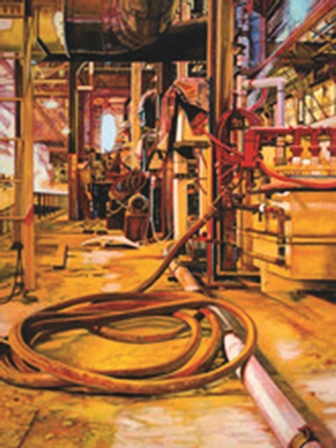 SALISBURY, MD---Salisbury University Art Galleries presents the exhibit "Razing the New Deal: An Exploration in Architecture and Identity" by Morgan Craig from January 15-March 10 at its Downtown Gallery.
A reception is 5-8 p.m. February 19 during the Salisbury Arts & Entertainment District's monthly 3rd Friday celebration. An artist talk is 5:30 p.m. Thursday, March 10.
Craig has exhibited throughout the U.S., and held residencies and visiting artist positions throughout Europe and Australia. In "Razing the New Deal," he explores how identity is influenced by post-industrial edifices, serving as a commentary on the effects of hubris, avarice, deregulated capitalism, free trade and technological obsolescence throughout the world.
Craig's large-scale realistic paintings not only document architectural structures but also offer socio-political commentary on American culture and identity in the 21st century.
Gallery hours are noon-5 p.m. Wednesday-Friday, noon-4 p.m. Saturdays. Sponsored by SU Art Galleries, admission is free and the public is invited.
For more information call 410-548-2547 or visit the SU Art Galleries website at www.salisbury.edu/universitygalleries.