Friday, November 20, 2015
SU Bernstein, Ratcliffe Winner is Guest Speaker at BE CONNECTED Event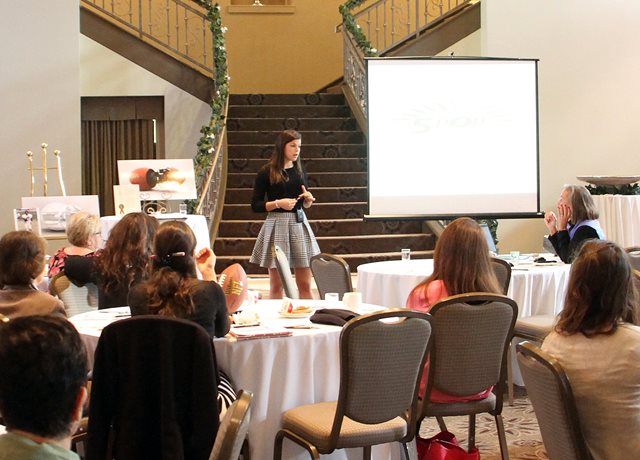 SALISBURY, MD---Sponsored by PKS & Company, P.A., BE CONNECTED recently brought together a group of more than 70 professional women for a morning of peer-to-peer networking and information sharing in Salisbury.
Guest speaker Jenna DeLetto, Salisbury University senior and co-owner of 5POP Sports, LLC, provided an energetic and inspiring start to the day for all that attended. DeLetto is a recent Shore Hatchery winner and the 2015 Richard A. Bernstein Achievement Award for Excellence winner who has walked away with more than $35,000 to assist her in her plan to manufacture her digital football training device, 5POP Football.
There is much interest in this revolutionary training device, including an offer from Under Armour that DeLetto has turned down. She said she will not be taking a job after graduation in May; instead, she will go full force with 5POP.
"It's a scary decision, but it would be such a shame to let our progress go stagnant," she said.
Since winning the Bernstein Award in the spring, her team has worked with a mechanical engineer to create a lighter prototype and with a grad student at Harvard University and MIT to create a standardized system to test the product. Her goal is to produce 100 footballs by the start of the 2016 football season and give these balls to several schools' football programs, including Penn State, the University of Florida, and Duke, Vanderbilt and Salisbury universities.
When asked what it would take to keep her and her product in Salisbury, DeLetto said, "Well, I'm already staying the next two years. I absolutely love it here and the opportunities that Salisbury has presented me with are unreal, especially the Perdue School and the way it supports entrepreneurship."
She credits Dr. Stephen Adams' entrepreneurship class for preparing her for the competitions that have helped to launch her product. DeLetto will compete in two additional entrepreneurship events before graduation: The Eastern Shore of Maryland Competition in Washington, D.C., and Sports Tank U in North Carolina. She's giving herself a year to focus on 5POP and will enroll in SU's M.B.A. program for the 2017-18 school year.
DeLetto's enthusiasm and desire to follow through with this project impressed and inspiredthose in attendance.. Susan Keen, partner at PKS & Company, said, "It has been an absolute pleasure getting to know Jenna over the last couple of months. She's a dynamic young entrepreneur with the education and drive to make 5POP into an extremely successful business."
Attendees at the event said they "enjoyed the entire program … the speaker was fabulous …. I was able to meet new people and reconnect with others while learning something new."
Others echoed that enthusiasm, saying, "I can't wait until your next event."
About the BE CONNECTED, Women's Networking & Business Series
Sponsored by PKS & Company, P.A., BE CONNECTED is an opportunity for peer-to-peer networking and information sharing for women business leaders as well as the next generation of women rising to leadership positions in the community.
This by-invitation event will be held bimonthly on the first Thursdays of the month. For more information contact Laura Wilson at lwilson@pkscpa.com or call PKS & Company, P.A. at 410-546-5600.