Thursday, November 19, 2015
Ratcliffe Shore Hatchery Benefactor Named Foundation of the Year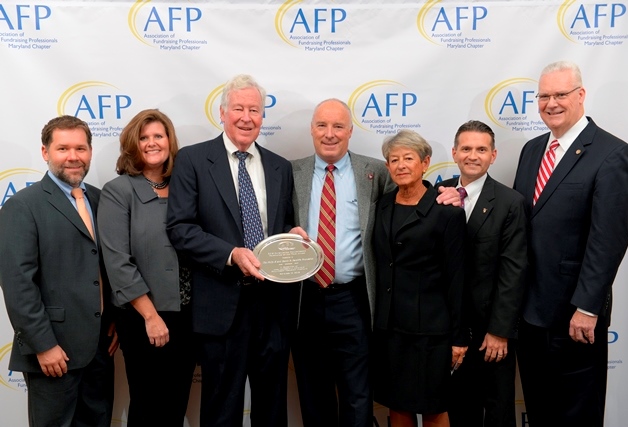 SALISBURY, MD---The benefactor of Salisbury University's Ratcliffe Shore Hatchery initiative, the Philip E. and Carole R. Ratcliffe Foundation, was honored as the 2015 Outstanding Philanthropic Foundation of the Year by the Association of Fundraising Professionals-Maryland Chapter (AFP-MD).

"Thank you so much for all that you do for the region, for the state and for the nation," said SU President Janet Dudley-Eshbach in a congratulatory video. An SU delegation of faculty, administrators, alumni and others celebrated the Ratcliffe Foundation at AFP-MD's National Philanthropy Day in Baltimore.

The Ratcliffe Foundation was honored, in part, for its dedication to "entrepreneurial education and programs." In recent years, it has given $2.1 million to support such initiatives at SU and two sister institutions within the University System of Maryland (the University of Baltimore and the Institute of Marine and Environmental Technology).

SU's five-year, $1 million Ratcliffe Shore Hatchery program, established in 2013, allows mid-Atlantic entrepreneurs to vie for up to $200,000 in business funding annually. Its goal is to have new businesses open within six months, with the potential of employing three or more within a year. Recipients also receive mentoring from the Shore Hatchery board of directors.

SU alumnus John Churchman, a two-time Shore Hatchery funding recipient and co-owner of College Scooters and Cycles/Shore Cycles, said the Ratcliffe Foundation is "really interested in seeing a diverse array of businesses."

"They're really trying to grow lots of different sectors across the state," he added. "The Shore Hatchery helped us grow beyond just an entrepreneurial endeavor in school and make it a job I can have … in the real world."

The AFP-MD honor called the Ratcliffe Foundation a "significant and thoughtful donor" that has "enabled its grantees to innovate in the classroom, in the lab and through commercial ventures. It has been a vital and generous resource for numerous efforts to create sustainable and meaningful long-term solutions. More important, the Foundation's support spurs real-world solutions for job creation, economic growth, and community development."

Pictured above, from left, are Jason Curtin, SU's assistant vice president of alumni relations and development; Dr. Christy Weer, dean of SU's Franklin P. Perdue School of Business; James Wright of the Ratcliffe Foundation; Bill Burke, SU's director of entrepreneurship programs; Carole Ratcliffe; Dr. T. Greg Prince, SU's vice president of advancement and external affairs; and Leonard Raley, vice chancellor for advancement for the University System of Maryland.

For more information call 410-543-6030 or visit the SU website at www.salisbury.edu.