Wednesday, November 11, 2015
Producer Anne Rosellini participates in Q&A with Literature and Film students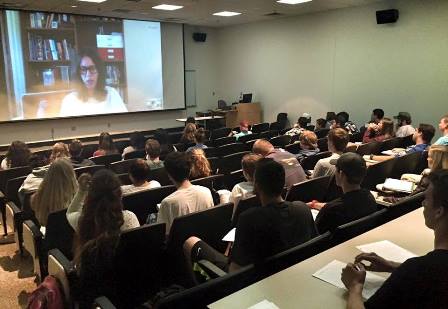 SALISBURY, MD---Students in Dr. Andrew Scahill's Literature and Film class at Salisbury University recently took part in an exclusive question-and-answer session with Anne Rosellini, producer for the Oscar-nominated film Winter's Bone (2010).

Starring Jennifer Lawrence, Winter's Bone is a modern film noir about a young girl searching for her missing father amid the dark underworld of the Ozarks methamphetamine trade.

After reading the novel and watching the film adaptation, students spoke with Rosellini via Skype. She began with a brief summary of the inception of the film and how her crew embedded themselves for several years with families in rural Missouri, casting from within the community and often using their homes as sets.

During the Q&A, the class engaged Rosellini on a wide range of topics, including the process of adapting a novel to film, the challenges of independent filmmaking, the desire to tell real and non-exploitative stories, the compromises made to produce a low-budget film, the changing modes of film distribution in the 21st century, being a woman in the male-dominated film industry, and — of course — what it was like to work with Jennifer Lawrence.

"All in all, the afternoon afforded a rare opportunity to engage an author directly and to talk candidly with an industry professional to demystify the process of filmmaking," said Scahill.

For more information call 410-543-6030 or visit the SU website at www.salisbury.edu.