Tuesday, October 20, 2015
SU Hosts Senior Art Exhibitions November 13-December 15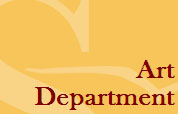 SALISBURY, MD---This fall semester, Salisbury University showcases 18 students from diverse artistic backgrounds in the 53rd biannual Senior Art Exhibition, "Aura (Art All Around)."
This exhibition is the culmination of the fine arts program for these artists and is anticipated throughout their years at SU. The graduating artists work in various mediums and are excited to share their portfolios with the community.
Art students prepare for the show by taking a Senior Exhibition course. In this course, students are taught the foundational skills for organizing and curating an exhibition. They are also instructed in ways to create materials, which can be used in their professional life, such as design philosophies, artist statements, cover letters, resumes and various methods of presenting their portfolios.
In addition, they participate in student-run committees that collaborate and arrange meetings to compose this show: Publicity and Public Relations, Exhibition Logos and Invitations, Poster Design, Exhibition and Opening Night, Website Development, and Photography.
There are two shows this semester in the University Gallery of Fulton Hall. The first features the work of graphic design students. Their work will be exhibited from November 13-24. All viewers and community members are welcome to celebrate this show at the opening reception and awards ceremony from 5-7 p.m. Monday, November 20.
The second show displays work from fine arts students and will be exhibited from December 4-15, with an opening reception and awards ceremony on Friday, December 11, from 5 -7 pm.
There will be light refreshments at both receptions, as well as artwork available for purchase.
Gallery hours are 10 a.m.-5 p.m. Monday-Thursday, noon-4 p.m. Saturday. Admission is free.
For more information call 410-548-2547 or visit the SU Art Galleries website at www.salisbury.edu/universitygalleries.