Wednesday, September 30, 2015
Safe Space Area Dedicated in Memory of Polly Stewart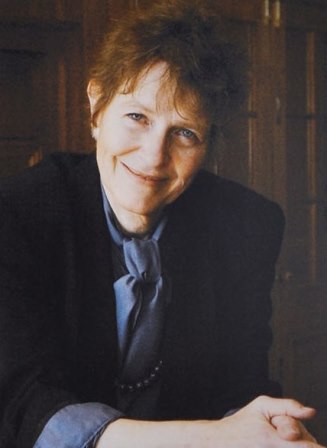 SALISBURY, MD---As founder of Salisbury University's Horizons program (now known as Safe Spaces), Dr. Polly Stewart provided safe spaces for many LGBTQ students and faculty during her 30-year tenure at SU.

Her legacy lives on more than a decade after her retirement in 2004 and her death in 2013, thanks to a new safe space seating area, near Fulton Hall, dedicated in memory of the long-time English professor.

During a ceremony, Dr. Diana Wagner, assistant dean for assessment and accreditation in SU's Samuel W. and Marilyn C. Seidel School of Liberal Arts, recalled how Stewart founded the University's chapter of the Lambda Society, an LGBTQ association.

"She helped me make the decision whether this was a place I was passing through, or the place I was going to retire from," she said, noting that Stewart reached out to her during Wagner's early days on campus.

She and others, including several former students who are now SU faculty, recalled Stewart as a tough but fair educator, good friend and stalwart advocate for LGBTQ rights, especially at SU.

Wagner also read remarks on behalf of SU President Janet Dudley-Eshbach, recalling Stewart's tenacious support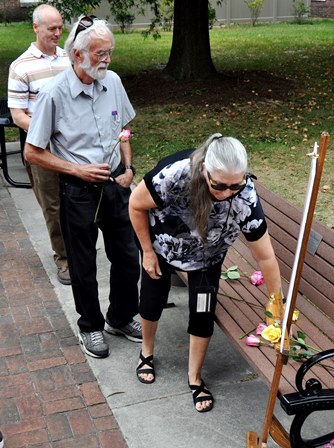 for the University's LGBTQ community:

"When I came to Salisbury in 2000, it was immediately obviously that our campus needed to do more to embrace and celebrate diversity. The broad set of initiatives I announced in January 2001 were at times — on campus and off — met with harsh criticism and suspicion. Yet, together as a community, we vowed to move forward.

"In her unassuming, selfless way, Dr. Polly Stewart was a giant in her leadership and support for these initiatives. In fact, she had been promoting inclusion for many years. Her influence was tremendous, whether in the classroom, in meetings around campus, and in the larger community. Polly was fearless. She made 'being gay' acceptable in more effective ways than any presidential initiative could ever do."

Following the ceremony, faculty, staff and others placed roses on a bench bearing a plaque remembering Stewart as a "teacher, scholar, friend, folklorist, musician and warrior," adding that "Dr. Stewart transformed the campus for the gay, lesbian, bisexual, transgender and queer community. Her innovative teaching transformed her students and her colleagues. Her grace, generosity and loyalty transformed her friends."

Dr. Maarten Pereboom, dean of SU's Charles R. and Martha N. Fulton School of Liberal Arts, noted that the space included student sculptures to add to its sense of contemplation. New student-created artworks will rotate into the space in the future.

For more information call 410-543-6030 or visit the SU website at www.salisbury.edu.