Monday, August 3, 2015
Princeton Review Names SU Among 'The Best 380 Colleges' for 2016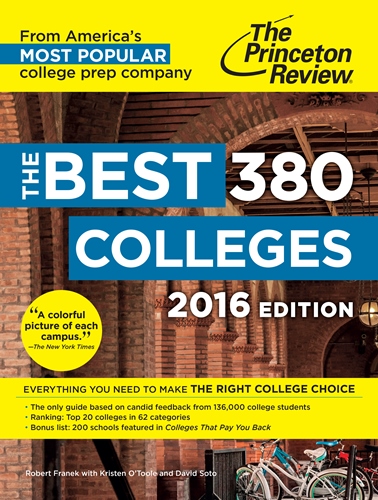 SALISBURY, MD---"The professors here are down-to-earth, friendly, and just passionate about what they are teaching."
You learn "lessons that you will be able to take far beyond the classroom. [They] don't just teach so that you will pass a test, they teach for life. They're awesome."
These are some of the student comments about Salisbury University in The Princeton Review's new 2016 edition of The Best 380 Colleges. The University is among the nation's top 15 percent of four-year colleges, according to the Review's flagship guide.
"SU's outstanding academics are the chief reason we chose it for this book and we strongly recommend it to applicants," said Robert Franek, Princeton Review's senior vice president-publisher and author of The Best 380 Colleges. "We make our selections primarily based on data we collect through our annual surveys of administrators at several hundred four-year colleges. Additionally, we give considerable weight to observations from our school visits, opinions of our staff and our 23-member National College Counselor Advisory Board, and an unparalleled amount of feedback we get from our surveys of students attending these schools. We also keep a wide representation of colleges in the book by region, size, selectivity and character."
Spotlighted in the campus' two-page review were the academic experience, the diversity in the student body, their commitment to their fields of study and the variety of student life activities available.
"Many students choose SU because it just feels right when they step onto our beautiful campus, nationally recognized as an arboretum," said SU President Janet Dudley-Eshbach. "Once here, they benefit from the expertise and support of award-winning faculty and dedicated staff. In the classroom, on the playing field, in offices, and in research and creative work, our academic community is committed to excellence and educating the whole student. I am proud that SU is recognized again this year; it is a testament to the hard work of so many across campus."
SU is one of three University System of Maryland campuses in the guidebook, with the University of Maryland Baltimore County and the University of Maryland College Park. Other area colleges include the University of Delaware and the U.S. Naval Academy.
SU was also named among the publisher's Best Northeastern Colleges.
Earlier this year, Kiplinger's Personal Finance named SU among its Top 100 "Best Values in Public Colleges" for 2015 and among its "24 Best College Values Under $30,000 a Year." SU also has been ranked among "America's Top Colleges" by Forbes, "The Best Colleges for Your Money" by Money, and "America's Best Bang for the Buck Colleges" by Washington Monthly. For 18 consecutive years, SU has been one of U.S. News & World Report's Best Regional Universities in the North.
For more information call 410-543-6030 or visit the SU website at www.salisbury.edu.