Friday, June 5, 2015
SU Environmental Studies Department Co-Sponsors 'Create a Crab' Challenge in October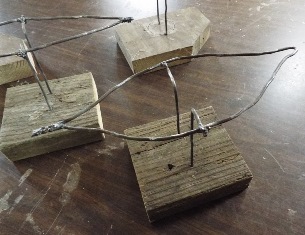 Orders for "create a crab" challenge frames are being taken now, with pickup scheduled in early September.

SALISBURY, MD---Last fall, the City of Salisbury and Wicomico County's "Stash Your Trash" program challenged area residents to try their hands at making heron sculptures out of recycled materials.

This year, Stash Your Trash, along with Salisbury University's Environmental Studies Department and the Salisbury Area Chamber of Commerce, is issuing another challenge: Create a crab.

Since the first competition last November, sculptures including the winner, "Scuttle," designed by SU environmental studies majors Catie Burkowske and Kathleen McMillen, have represented Stash Your Trash at venues including the Ward Museum, Wicomico County Visitors Center, and Public Library. The crabs are expected to take over as the program's "ambassadors" in late 2015.

Entrants will need to bring their completed sculptures to the Salisbury Arts & Entertainment District's October 3rd Friday celebration, scheduled 5-8 p.m. October 16 on the Downtown Plaza. Pre-made frames are available from the sponsors upon request. Orders are being taken now, with pickup scheduled in early September.

To request a frame, or for more information, contact Priscilla Timken of Chesapeake Tours & Promotions at 443-366-2784 or info@chesapeaketourplanner.com.