Thursday, May 28, 2015
SU Geography Student Earns Elkins Internship Award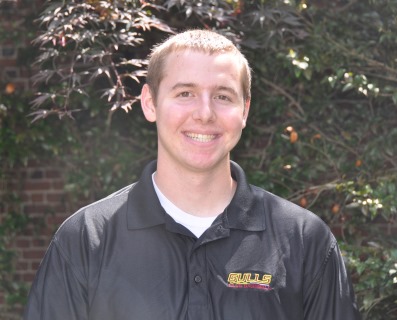 SALISBURY, MD---Salisbury University's inaugural Gerald A. Elkins Internship award is providing a geography student with a summer position at the Baltimore City Planning Department and a $1,500 stipend.

Junior Tyler Wilson of Annapolis, MD, was named the first recipient during SU's 2015 Honors Convocation.

One of only a few endowed internships at the University, the award provides a student the opportunity to explore a career in urban planning and mapping. It was established through the SU Foundation, Inc., to honor Gerald Elkins, the late husband of SU Chief of Staff Amy Hasson. The couple met at Baltimore's Planning Department, where he was a dedicated planning and mapping professional for over four decades and she also worked for 15 years.

"I thought it was important to offer SU students an urban planning experience, while also honoring Gerald's legacy," Hasson said. "What better place to do so than in Baltimore City Planning, one of the best planning departments in the country, and the place where we met and spent so many years working among smart, creative and visionary colleagues. Gerald would be so pleased and proud to know that we have introduced a student to the place and occupation he loved so well, just as Gerald's high school art teacher did so many years ago."

Wilson is majoring in geography with a concentration in geographic information science. He is the son of Jeffrey and Virginia Wilson of Annapolis, MD, and is a 2012 graduate of Broadneck High School.

"I am deeply honored to be the inaugural Salisbury intern, selected to work in the same office as Mr. Elkins did for more than 40 years," Wilson said. "I plan on a career in the GIS field, with my main interests stemming toward the intelligence community in the federal government. This internship will allow me to work on a professional project for a major city and improve my GIS and analytical skills."

"This is a prestigious award; students have to achieve at a high level to receive it," said Dr. Michael Scott, chair of SU's Geography and Geosciences Department. "It is a tremendous opportunity to get involved with a large-scale planning office and see how this all works from the inside out. With Tyler's interests, he was a natural fit.

"We appreciate the generosity of Gerald Elkins' family in creating this unique award, as it aligns with our mission of providing such opportunities for students to put their classroom skills into practice in real world settings," Scott added.

Elkins Internship award recipients must be full-time geography or geosciences students, with a 3.0 G.P.A. and demonstrated academic success and leadership skills.

At SU, Wilson also works for SU's Sports Information Office as an announcer for women's basketball and men's lacrosse games, and is the treasurer for SU Club Baseball.

For more information, call 410-543-6030 or visit the SU website at www.salisbury.edu.