Wednesday, April 22, 2015
First SU Green Fund Project Installs LEDs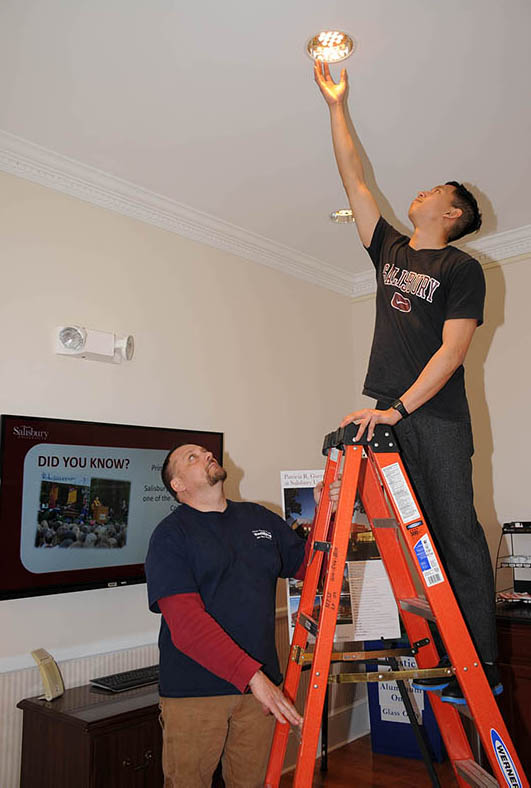 SALISBURY, MD---When senior biology major Miguel Bolano was considering projects to submit for Salisbury University's new Green Fund initiative, a light bulb went on in his head.
It was an LED.
The Philippines native, who now resides in Baltimore, consulted Wayne Shelton, director of campus sustainability and environmental safety, with several ideas for the program. Shelton suggested he attend the Environmental Studies Department's annual presentation on energy efficiency by Delmarva Power and McIntyre Electrical Services, Inc.
There, his plan gelled. Learning about rebates from the Maryland Energy Administration (MEA) for energy-efficient upgrades, he recommended upgrading all interior and exterior lighting at SU's Admissions House with LEDs.
"That's the first place on campus many potential students and their parents see," he said, adding that he wanted the University's commitment to sustainability to factor into their first impressions.
The upgrade, performed by McIntyre, cost nearly $18,000. With almost $12,000 in MEA energy credits through Delmarva Power, however, the University's cost was reduced to less than $5,000.
At a projected energy cost savings of $2,000 per year, plus motion sensors to make sure low-traffic areas of the building are illuminated only when necessary, Bolano expects the project to pay for itself in as little as two years. The new lights are not expected to need replacement for at least a decade, with lights in the motion-sensor controlled areas potentially lasting up to 20 years.
"There was no reason not to do this," he said.
So far, the results have been a hit.
"The new lighting initiative helps the University to make the right impression with our prospective students and families as they arrive on campus," said Aaron Basko, assistant vice president for enrollment management and career services.
"Right from the very beginning, families see that sustainability is an important priority for the University. Salisbury offers so many opportunities for students interested in 'green' careers, we want them to know that it is part of our institutional fabric."
Thanks to this project, there is at least one more student interested in a "green" career — Bolano himself. He hopes to work in the sustainability industry after his expected graduation in May 2016.
"We've really got to start thinking ahead," he said. "Climate change is happening a lot faster than we thought. Projects like this are a good first step in doing what's right for the environment."
Bolano's project was the first to be selected for a grant from the Green Fund, a student-led, initiative to further SU's already strong commitment to sustainability. The University has been recognized nationally for its environmental efforts by the U.S. Green Building Council and The Princeton Review, among others.
Funding for the initiative comes from student sustainability fees. Students, faculty and staff are invited to submit project proposals for the campus each semester (students must be a part of every proposing team).
"Projects can be small or large, whatever you think might make a positive impact on the environment," said Shelton. "The only limit is your imagination."
For more information call 410-543-6030 or visit the Green Fund website at www.salisbury.edu/sustain/programs/green_fund.