Tuesday, April 21, 2015
SU Hosts 14th Student Research Conference April 24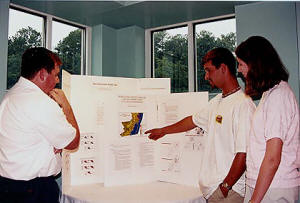 SALISBURY, MD---Salisbury University students share their research on topics ranging from the sciences, to the liberal arts, to business, to education during the 14th SU Student Research Conference on Friday, April 24.

Registration is 11:30 a.m.-1:30 p.m. and presentations are 1:30-6 p.m. in Henson Science Hall. Dr. Diane Allen, SU provost and senior vice president for academic affairs, welcomes presenters and guests to a poster session at 6 p.m. in the Wicomico Room of the Guerrieri University Center.

Activities during the evening session include a performance by the Squawkapella student a cappella group and the announcement of this year's Faculty Mentor Award winner. The poster session ends at 7:30 p.m.

A full schedule of topics, times and locations is available on the conference website, www.salisbury.edu/susrc. The event showcases and celebrates student accomplishments.

For more information call 410-543-6030 or visit the SU website at www.salisbury.edu.