Monday, April 20, 2015
JPBM Spotlights SU Alumna for Mathematics Awareness Month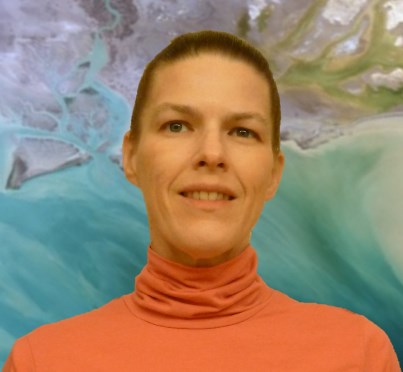 SALISBURY, MD---Alumna Karen Patterson is a poster child for what students can do with a Salisbury University mathematics degree ― literally.

The 1992 graduate, now an oceanographer for the Naval Research Laboratory in Washington, D.C., is one of 10 professionals nationwide spotlighted by the Joint Policy Board for Mathematics (JPBM) on a poster for Mathematics Awareness Month in April.

Supporting the 2015 theme of "Mathematics Drives Careers," the poster and accompanying online profiles are designed by the JPBM to enlighten students about opportunities for meaningful and challenging careers related to mathematics. The poster was distributed to nearly 4,000 individuals who work with students in science, technology, engineering and mathematics (STEM) majors.

Patterson earned B.S. degrees in mathematics and geography from SU before pursuing her M.A. in geography and Ph.D. in marine science at the University of California, Santa Barbara. She said the "teaching style" at SU had the biggest impact on her, as "the emphasis was not on memorization and replicating exercises ... the emphasis was on critical thinking, organization and effectively utilizing available resources." She added that her dual major at SU led her to pursue summer internships at NASA where she got interested in research.

Her current job involves developing "methods to determine environmental conditions such as water depth, bottom cover and water components from imagery collected by aircraft and satellites."

She works in the field collecting data and has "spent several months in the Antarctic, a few months shipboard in the Arctic, been through the Suez Canal and spent quite a bit of time in the waters of the Mediterranean Sea, Middle East and Southeast Asia." She also has worked in U.S. coastal waters from Florida to Hawaii. "Who knew math would turn me into a world traveler?" she added.

Back in the office, Patterson does computer programming to develop algorithms and uses math theory and approximations to verify that the algorithms make sense for the environment being studied. She also spends time automating the processing of imagery for the navy, so images can be posted to a website or distributed to a person in the field.

A native of Finksburg, MD, Patterson now resides in Alexandria, VA.

The JPMB sponsors Mathematics Awareness Month annually to recognize the importance of mathematics. The JPBM is a collaboration of the American Mathematical Society, the American Statistical Association, the Mathematical Association of America, and the Society for Industrial and Applied Mathematics.

For opportunities with the Naval Research Laboratory, Patterson said students may visit: www.nrl.navy.mil/accept-the-challenge/students-postdocs/student-programs/.

To view Patterson's profile, visit www.mathaware.org. For more information call 410-543-6030 or visit www.salisbury.edu.