Friday, April 10, 2015
'Dickens and 'Drood'' Concludes 2014-15 Humanities Series Apr. 12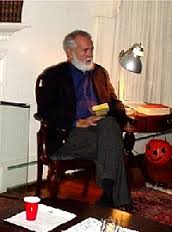 SALISBURY, MD---Salisbury University's 2014-15 Adventures in Ideas: Humanities Seminars series concludes with the presentation "Dickens and Drood" noon-6 p.m. Sunday, April 12.

Dr. Tony Whall, SU professor of English emeritus and former director of the Thomas E. Bellavance Honors Program, discusses Charles Dickens' final (and unfinished) novel, The Mystery of Edwin Drood, during a lecture and lunch from noon-1:30 p.m. in Teacher Education and Technology Center Room 152.

A matinee performance of the Bobbi Biron Theatre Program's production of Rupert Holmes' Drood, a musical comedy based on the novel, follows from 2-5 p.m. in the Black Box Theatre of Fulton Hall. Audience members help choose key plot points left incomplete by Dickens, including the murderer's identity.

The day concludes with an afterglow discussion led by Dr. T. Paul Pfeiffer, the performance's director and chair of SU's Theatre and Dance Department, with members of the cast and production team.

The winner of five Tony awards, including Best Musical, Drood draws on multiple "collaborations" by authors attempting to complete the novel, as well as three film adaptations. Upon its opening in 1985, Drood was believed to have been the first Broadway production to feature multiple endings.

Sponsored by the Charles R. and Martha N. Fulton School of Liberal Arts and the Whaley Family Foundation, cost is $30, including lunch and admission to the musical. Advance reservations are required.

To RSVP, or for more information, call Donna Carey at 410-543-6450 or email dmcarey@salisbury.edu.