Thursday, April 9, 2015
Exercise Science Majors Advance to National College Bowl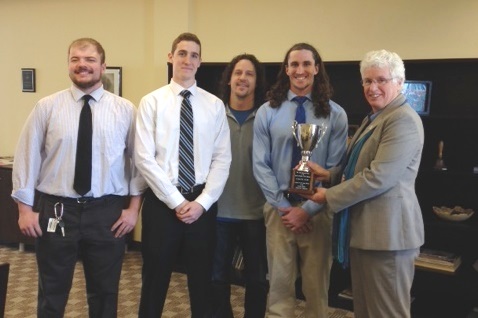 SALISBURY, MD---Three Salisbury University seniors recently won the College Bowl competition at the annual meeting of the Mid-Atlantic Regional Chapter of the American College of Sports Medicine (MARC-ACSM).

They will represent SU and the mid-Atlantic region at the National Student Bowl Competition at the ACSM Annual Research Conference in San Diego on Wednesday, May 27.

"This is a great experience for the students because it is a competitive opportunity to battle knowledge and skills against other universities, while being visible to various graduate program professors in our field," said Dr. Scott Mazzetti, faculty in SU's Health and Sport Sciences Department and president of MARC-ACSM. "Their accomplishments are put on their vitaes and, overall, the competition facilitates the students' desires to know more about their field of study."

Participating in the Jeopardy-style contest were exercise science majors Alec Chaves of North East, MD; Joseph Watso of Kings Park, NY; and William "Marty" Castor of Mt. Airy, MD.

At the regional contest, they competed against students from 11 other universities. The event tests knowledge of exercise physiology in the areas of skeletal muscle and nerve physiology, cardiorespiratory physiology, strength and conditioning, kinesiology, statistics, nutrition and bioenergetics, and other areas related to overall responses and adaptations to exercise, Mazzetti said.

The students also will present at the national conference. Castor will discuss the "Validity of a Weightlifting Accelerometer for Measuring Average Power." Watso will share the "Comparability of Tendo Weightlifting Analyzer with Recreational and Explosive Bench Press Exercise." Chaves is co-author on both presentations.

Pictured, from left, are Chaves, Watso, Mazzetti and Castor with Dr. Cheryl Parks, dean of the Samuel W. and Marilyn C. Seidel School of Education and Professional Studies.

For more information, call 410-543-6030 or visit the SU website at www.salisbury.edu.