Friday, March 27, 2015
SU's Morris Presents at SXSW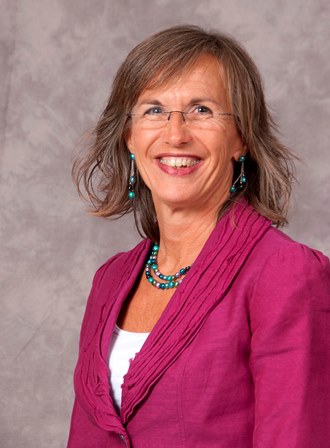 SALISBURY, MD---Today's college students know how to use social media — they just don't always know how to use it in the business world.

That's what Paula Morris of the Management and Marketing Department in Salisbury University's Franklin P. Perdue School of Business thought when she began teaching social media marketing. It turns out others agreed.

One tool she passed along to students during the class' early years was Hootsuite, an online social media management platform geared toward small and medium businesses and non-profits.

When a call went out from Hootsuite asking for examples of how the software was being used in the classroom, Morris shared her experiences — and Hootsuite officials took notice. They invited her to present a webinar, "From #LOL to #KPI: How to Teach Social Media" with two other faculty members in the field, Alfred Hermida of the University of British Columbia and Dr. Natalie Petouhoff of the University of California, Los Angeles. (KPI refers to "key performance indicator.")

They were a hit — so much of a hit, in fact, that Hootsuite decided their presentation merited more than just a one-time online presence. Enter SXSW.

Each year, prior to its popular annual technology conference in Austin, TX, the organization hosts SXSWedu, highlighting innovations in education and teaching. Hootsuite officials thought Morris' focus on social media fit the theme — and they were right. Following a round of online voting, the Hootsuite team's presentation was selected as a 2015 panel.

Conference-goers attending Morris' panel selected it above 21 other panels occurring concurrently, including one with First Lady Jill Biden — and they loved it! Twitter comments included "Teaching social media in the classroom: shift from how to use to WHY to use it. Love it. Let's learn why." One commenter especially liked Morris' mantra: "Keep it clean, don't be mean. Share your best self."

That comes from one of her primary classroom assignments. Each semester, she asks students to write a personal social media policy, defining how they want themselves to be seen (their "brand") and how they plan to promote that brand via social media.

Beyond her duties as a presenter, Morris got to take in the conference as a whole. One offering that caught her eye was a presentation from Lego Education Solutions, encouraging students to use the tiny building blocks to build model cities, teaching them how to photograph and animate those cities using smartphones, then asking them to write stories about the animations.

"If that's not teaching science, math and English, I don't know what is," she said.

She also heard from employers who described what they wanted from students entering the workforce. It turns out that's something Morris offers, as well. In her advertising and promotions classes, she asks student teams to partner with area non-profits to plan and promote projects including fundraisers and awareness campaigns.

"That's what the employers are saying they want," she said. "They're looking for students who have worked all the way through a project. You don't give them a rubric; you just give them the assignment and get out of the way. They set their own deadlines, and if it's something that's too big for one person to handle alone, so they have to learn how to work in teams, that's even better."

For more information call 410-543-6030 or visit the SU website at www.salisbury.edu.