Monday, January 12, 2015
SU Art Galleries Presents '21st Century Glass' January 20-February 19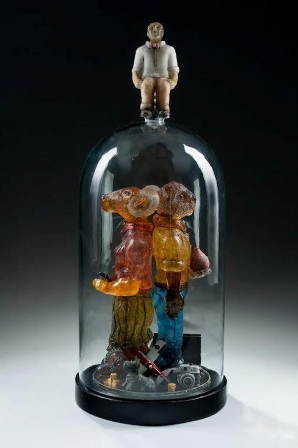 SALISBURY, MD---What does the future hold for glass art?

Salisbury University Art Galleries explores the topic during the exhibit "21st Century Glass: Exploring the Use of Glass as a Material for Artistic Expression and Its Changing Role in Contemporary Art."

Curated by Steven Durow, the Head of the Glass Area in SU's Art Department, the exhibition is January 20-February 19 in the University Gallery of Fulton Hall. An artist talk with Karen Donnellan, whose works are among those displayed, is 5:30 p.m. Thursday, February 19, in Fulton Hall Room 111. A reception follows from 6:30-8 p.m. in the gallery.

Other artists featured in the show include Davin Ebanks, Sean Hennessey, Michael Janis, Weston Lambert, Carmen Lozar, Sibylle Peretti, Margaret Spacapan, Tim Tate, Erwin Timmers, Audrey Wilson and Walter Zimmerman.

"21st Century Glass" looks at the future of the medium as artists move away from technique-driven work into a more modern approach to the material. Movements like Glass Secessionism (placing the focus on artistic vision) and Hyperopia Projects (artists with glass backgrounds drawing from multiple disciplines and media) represent a changing dialog with the material of glass.

Gallery hours are 11 a.m. - 4 p.m. Monday-Friday, noon-4 p.m. Saturdays. Sponsored by SU Art Galleries, admission is free and the public is invited. SU Art Galleries programming is supported in part by the Maryland State Arts Council and the Salisbury Wicomico Arts Council.

For more information call 410-548-2547 or visit the SU Art Galleries website at www.salisbury.edu/universitygalleries.