Thursday, December 11, 2014
SU Children's Theatre Workshop Presents 'The Tempest' January 17-18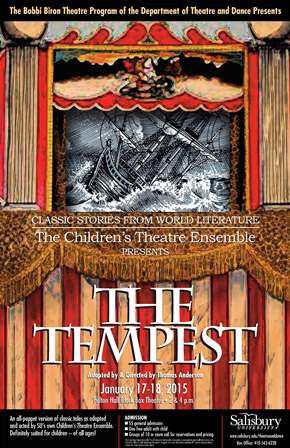 SALISBURY, MD---Salisbury University's Children's Theatre Workshop presents a family-friendly, all-puppet retelling of Shakespeare's The Tempest Saturday-Sunday, January 17-18.

Curtain is 2 p.m. and 4 p.m. in the Black Box Theatre of Fulton Hall.

Tom Anderson of the Theatre and Dance Department directs the original adaptation. The puppets will be constructed and operated by students in Anderson's winter term class, who give their creations their unique voices and character.



Believed to have been possibly Shakespeare's final solo play, The Tempest tells the story of magician Prospero, deposed duke of Milan, who is stranded on an island with his daughter, Miranda, at the hands of his brother, Antonio.

When a ship carrying Antonio and his family passes near the island 12 years later, Prospero summons a storm (a tempest) to run it aground, sending its occupants on a series of adventures before ultimately forgiving his brother and resolving to give up his magic ways.

"The Tempest will be geared toward Salisbury's young audience, but all ages will find this mystical world of magic, sprites and monsters and enjoyable escape from the winter weather," said Anderson.

Admission is $5. Adults receive one free ticket per child. Tickets are available online at www.salisbury.edu/theatreanddance and through the SU Box Office, Fulton Hall Room 100.

For more information call 410-543-6228 or visit the SU website at www.salisbury.edu.