Thursday, November 13, 2014
Maryland Planning Secretary Richard Hall Speaks at SU Tuesday, November 18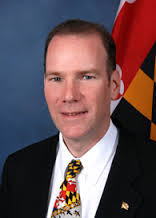 SALISBURY, MD---Maryland Secretary of Planning Richard Hall speaks on "Creating Places of Value: Sustainable Communities on the Eastern Shore" 6 p.m. Tuesday, November 18, in Room 123 of Salisbury University's Devilbiss Hall.

A native of Salisbury, Hall has served as the state's secretary of planning since 2007. He joined the Maryland Department of Planning as a planner in 1992, becoming director of land use planning and analysis in 2003, then secretary in 2007. Prior to joining the department, he was a senior planner at the Harford County Department of Planning and Zoning. Altogether, he has more than 20 years of professional planning experience.

Sponsored by the SU Smart Growth Club, Maryland Department of Planning and Wicomico Environmental Trust, admission to his talk is free and the public is invited. For more information call 410-543-6031 or visit the SU website at www.salisbury.edu.