Thursday, October 30, 2014
25th SU Dance Company Fall Showcase Scheduled November 6-9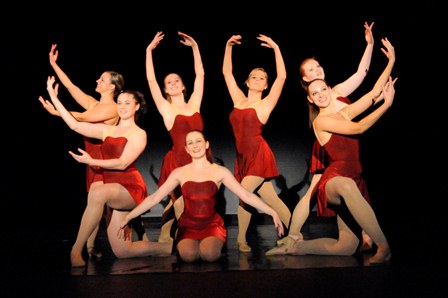 SALISBURY, MD---The Salisbury University Dance Company, directed by Mary Norton, presents its 25th annual Fall Showcase Thursday-Sunday, November 6-9, in Holloway Hall Auditorium.

Curtain is 8 p.m. Thursday-Saturday, 2 p.m. Sunday.



The program features the work of six company members, as well as a performance by local guest artists Ebru Hungelmann and Staci Alexander-Snyder. Guest choreographer Katie Erdman-Harrison presents an ensemble work to Bastille's "Pompeii" to conclude the concert.

Snyder, a Salisbury native, has toured with Up With People and Young Americans, and joined the Human Project Urban Dance Theater in Tucson, AZ, in 2006. Hungelmann, a native of Istanbul, Turkey, earned a degree in movement science from the University of Hamburg, Germany. Both currently instruct students locally.

Erdman-Harrison is an SU graduate and a former Dance Company member. She instructs students at the Mid-Atlantic Youth Ballet.

Three company members present premiere choreography. Ben Rector provides the musical inspiration for senior Kasey Jenkins' "I Wanna Dance With Somebody." This contemporary work celebrates dance as an art form.

Junior Kylie Watson's piece, "Nothin' But a Good Time" carries a similar theme, with a focus on celebrating life. Watson's work is set to music by Poison. Graduate student Jenna Payne sets her first company work to music by Blackmill. "The Drift" explores the differences between modern and ballet techniques.

In addition, work by senior members Daniella Celia, Chelsea Chmel and Rachel Markow are featured. Markow sets a contemporary dance to "Hometown Glory" by vocal artist Adele.

Chmel's "Leave You," her fourth work for the company, is a powerful contemporary dance to music by Led Zeppelin. In sharp contrast is Celia's "Proud," an energetic work performed to music by Tina Turner.

Admission is $12; $9 for seniors, teens and SU alumni; free for children under 12 and SU ID holders. Reservations are not required. Tickets are available at the door beginning 30 minutes prior to curtain.

For more information, or to purchase tickets in advance, call 410-543-6228 or visit the SU Theatre and Dance Department website at www.salisbury.edu/theatreanddance.