Wednesday, October 29, 2014
SU Alumna's Legacy Continues Through Art Installation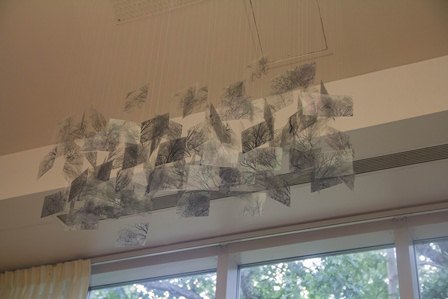 SALISBURY, MD---Salisbury University art major Shannon Brooks may have graduated from SU last May, but her legacy continues.
"Mimicry," a work by the Carroll County, MD, resident, has been installed in the Fireside Lounge of SU's Guerrieri University Center.
"With this piece, I've attempted to capture a memory, from when I used to go on hikes as a child at a nature preserve near my home," said Brooks, who earned her B.F.A. from SU. "The light coming through the trees, the breeze stirring the leaves and moving the branches, the open airiness that one can only find when outdoors in nature. All these senses I've brought into the physical so that others can see this piece and walk away with the same feeling of wonder that I have about nature.
"I firmly believe that true artists always have a driving force that pushes them to make their unique pieces. I've found over the years that what drives me to make my work is my emotions. To me, emotion goes beyond something that you alone feel. It goes beyond just being sad, or happy, or angry. It's broad and complex; it's curiosity, wanderlust, enchantment and amazement. Emotion is something that you can take and bring it into the physical realm, so that others can see it and feel it within themselves."
Though she concentrated in graphic design as an SU student, Brooks also fell in love with photography during her studies. Her focus often is on the organic forms of the natural landscape, which she applies to both her photography and graphic design work.
For more information call 410-543-6030 or visit the SU website at www.salisbury.edu.