Friday, October 10, 2014
Cecile McLorin Salvant Performs at SU Thursday, October 30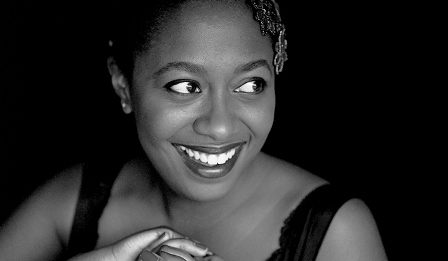 SALISBURY, MD---The New York Times has hailed Cécile McLorin Salvant as extending the lineage of Billie Holiday, Sarah Vaughan and Ella Fitzgerald.

The Grammy Award-nominated singer performs at Salisbury University 7 p.m. Thursday, October 30, in Holloway Hall Auditorium.



Salvant is known for her unique interpretations of rare and scarcely recorded jazz and blues compositions. She focuses on a theatrical portrayal of the jazz standard, and composes music and lyrics sung not only in English, but also in Spanish and her native French.

She has performed with jazz greats including Wynton Marsalis (at New York's Lincoln Center) and at venues such as Chicago's Symphony Center, the Kennedy Center for the Performing Arts and the Spoleto Jazz Festival.

For three years, she has been the voice behind Chanel's "Chance" advertising campaign, and her album WomanChild was nominated for the 2014 Grammy Award for Best Jazz Vocal Album. She received the 2014 JJA Jazz Award for Up-and-Coming Artist of the Year and Best Female Vocalist of the Year.

The New York Times' Ben Ratliff lauded Salvant, noting that "her voice clamps into each song, performing careful variations on pitch, stretching words but generally not scatting; her face conveys meaning, representing sorry or serenity like a silent movie actor." The Los Angeles Times called her a "24-year-old phenom."

Her SU performance is sponsored by the Cultural Affairs Office and funded through the Mid-Atlantic Tour program of the Mid-Atlantic Arts Foundation, with support from the National Endowment for the Arts and the Maryland State Arts Council.

Admission is free and the public is invited. For more information call 410-543-6271 or visit the SU website at www.salisbury.edu.