Thursday, October 9, 2014
SU Nursing Ranked Among '30 Best Affordable RN-BSN Programs'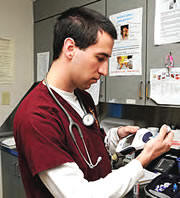 SALISBURY, MD---Salisbury University has been ranked the 16th "Best Affordable RN-BSN Degree Program" in the nation, based on cost and quality.

The complete list of only 30 schools was narrowed down from hundreds of fully accredited nursing degree programs in the United States. All have a net price less than $22,000.

Institutions then were scored based on graduation and freshmen retention rates, student-to-faculty ratio, percentage of classes taught by graduate assistants, minimum grade point average admission requirements, type of classes available and three-year average NCLEX pass rates.

"The SU Nursing Department and its faculty, staff and students are committed to excellence in their work and in their profession," said Dr. Lisa Seldomridge, department chair. "We are grateful this is being recognized."

The Cheap Nursing Degrees website wanted to determine the list of the "best, most affordable schools" due to the increased demand for affordable RN-BSN programs that allow registered nurses to return to school and earn B.S. degrees in nursing. The campuses included "represent the highest value among programs of their kind in the U.S.," said Editor Gerald Holder.

Salisbury is applauded for its "expert professors" who mentor students and teach in the classroom and laboratory, and its "excellent clinical facilities and hospital affiliations." The website added: "As proof of Salisbury's quality, the school has the highest three-year average NCLEX pass rate of any school in Maryland, and the Commission on Collegiate Nursing Education recently granted the program accreditation for the maximum period possible."

SU ranks alongside Temple and Clemson universities, the University of Colorado, the University of Texas at Austin and the University of Vermont, among others.

The website offers free information about nursing careers, certifications, scholarships, education and more.

For more information call 410-543-6030 or visit the SU website at www.salisbury.edu.