Friday, September 26, 2014
Painting, Essay Contest Involves Students in SU New Student Reader Program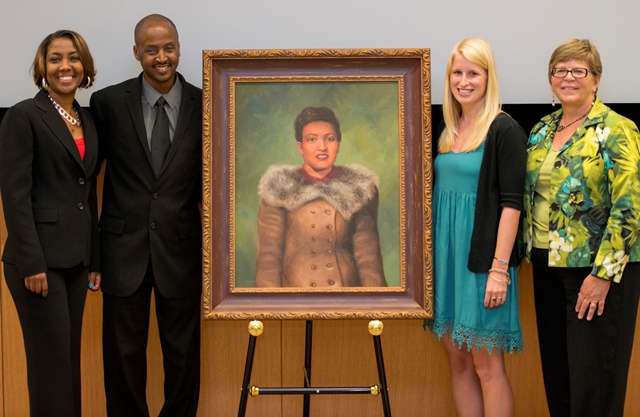 From left: Jeri Lacks Whye, David Lacks, Kelcie Mack and Dr. Karen Olmstead.
SALISBURY, MD---This year's Salisbury University New Student Reader, The Immortal Life of Henrietta Lacks by Rebecca Skloot, brought out the creativity in several students, who captured their feelings about the book in art and writing.
Working with Jinchul Kim of SU's Art Department, junior B.F.A. major Kelcie Mack of Spring Lake Heights, NJ, painted a portrait of the book's title character that was unveiled during New Student Reader activities and will hang in SU's Richard A. Henson School of Science and Technology.
"Henrietta Lacks played an indisputable role in furthering medical science,"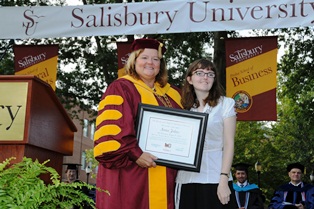 From left: SU President Janet Dudley-Eshbach and Anna Johns.
said Dr. Karen Olmstead, dean of the Henson School. "Her portrait will serve as a reminder to students interested in healthcare careers about the importance of ethics in all fields, as well as the advances made possible through research."
Diagnosed with cervical cancer in the early 1950s, Lacks, a poor African-American tobacco farmer who had relocated from Virginia to Baltimore, sought treatment at Johns Hopkins Hospital. Before she died of uremic poisoning, thought to have been caused by the disease, doctors took samples of the cancerous and non-cancerous tissue of her cervix for research without her knowledge or permission.
Using these samples, Dr. George Otto Gey developed an immortalized human cell line. Called the "HeLa" line, those cells have been one of the most important tools in medicine, vital for developing vaccines to polio and other diseases, as well as cloning, gene mapping and in vitro fertilization. They continue to be used in cancer and AIDS studies.
Two of Lacks' family members, Jeri Lacks Whye and David Lacks Jr., spoke on campus as part of the New Student Reader program. While at SU, they had a chance to view Mack's painting.
"As an artist, I wanted to accurately capture the essence of Henrietta in a way that a black-and-white photograph could not," said Mack. "Learning about what Henrietta and her family had gone through, and understanding what an impact her cells have had on modern science, gave me a better idea of the woman I was painting. It is essential to celebrate and memorialize her life so that her story will live on."
Along with the painting, students commemorated their involvement in this year's New Student Reader program with an essay contest. Freshman English education major Anna Johns of Westminster, MD, received first place, while freshman history major Samuel Stevens of Queenstown, MD, earned an honorable mention.
The Immortal Life of Henrietta Lacks was the 10th book in the program, initiated in 2005 as a way to orient new students to the academic community by sharing a common reading experience with classmates, faculty, staff and upperclassmen who serve as orientation team peer leaders.
For more information call 410-543-6030 or visit the SU website at www.salisbury.edu.