Friday, August 29, 2014
Washington Monthly Names SU 'Best Bang For The Buck' College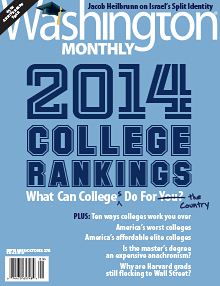 SALISBURY, MD---For the second consecutive year, Washington Monthly magazine has named Salisbury University one of "America's Best Bang For The Buck Colleges."
The list spotlights 349 schools in the country that "do the best job of helping non-wealthy students attain marketable degrees at affordable prices."
SU was ranked at No. 93; No. 41 among master's-level universities. With over 1,500 schools examined, this places SU among the top 10 percent nationwide.
To be included, colleges had to meet criteria related to Pell grant recipients, graduation rates and student loan default rates. Net price of attendance also was a factor. The list challenges prospective students to ask the question: "What colleges will charge people like me the least and give me the highest chance of graduating with a degree that means something in the marketplace?"
Two other publications also named SU one of the better higher education values in the United States this fall.
Money ranked SU second among University System of Maryland campuses in its "Best College Values," after the University of Maryland College Park. At No. 223, SU is in the top 15 percent nationally, based on factors including "educational quality, affordability and alumni earnings."
In Forbes, SU was among the top three System campuses with College Park and the University of Maryland Baltimore County, based on factors ranging from student satisfaction and graduation rates to career success and student debt.
For the 16th consecutive year, The Princeton Review also named SU one of its Best 379 Colleges for 2015.
In January, The Princeton Review and USA Today named SU among the Top 80 "Best Value Public Colleges" for 2014. In February, Kiplinger's Personal Finance named SU among its Top 100 "Best Values in Public Colleges" and later among its "25 Best College Values Under $30,000 a Year."
For more information call 410-543-6030 or visit the SU website at www.salisbury.edu.