Wednesday, August 27, 2014
Kouyate Brings West African Music Traditions to SU Downtown Gallery Thursday, September 4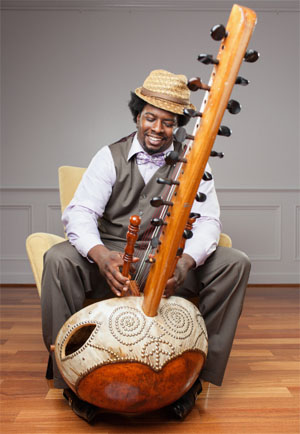 SALISBURY, MD---Amadou Kouyate is the 150th generation of the Kouyate family of Manding Diali, oral historians and musicians of West Africa, and the first generation born of his father's lineage in the United States.

He brings his musical heritage to Salisbury University Art Galleries Downtown Campus with a performance and storytelling session 7 p.m. Thursday, September 4.

Kouyate has appeared at the Kennedy Center for the Performing Arts and Smithsonian Institution, as well as Carnegie Hall (in the production Soul Possessed, directed by Debbie Allen). Internationally, he has performed at Brazil's Tim Festival, Triniad's Emancipation Festival, Colombia's Patronio Alvarez Festival, and England's Bristol Academy and Isle of Wight, among others.

Playing the 21-string kora, with rhythmic presentations on djembe and koutiro drums, his repertoire ranges from traditional songs from the 13th century to contemporary original compositions incorporating blues and jazz riffs.

His presentation is presented by LORD C and sponsored by SU Art Galleries, with support from the Community Foundation of the Eastern Shore. Admission is free but donations are accepted.

To reserve a seat or for more information call 410-548-2547 or visit www.eventbrite.com/e/amadou-kouyate-tickets-12786535873.